Performance driven AdWords for e-commerce
Our AdWords experts control a smart Robot for the highest yield.
And our Robot works 24/7 to optimize your AdWords campaigns.
contact us

We have done this before for:






---
Our Robot gets more out of Google Shopping and Product Listing Ads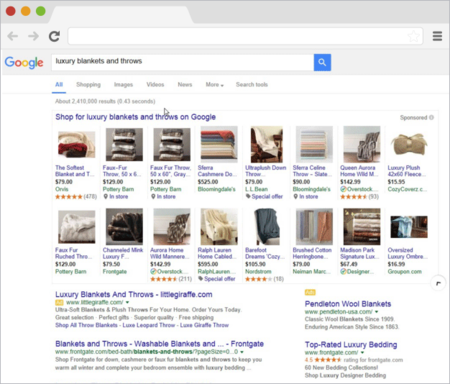 Google Shopping (PLA) offers web shops an incredible chance to display high yielding advertisements within the Google search engine.
Nowadays Google shows shopping advertisements more and more often when people search for products. Shopping generally has the highest yield after branded campaigns. Our experience shows that these sorts of campaigns are responsible for 30-60% of the revenue from AdWords.
Within shopping there are many optimizations possible with our Robot. Optimization of product feeds, offers, negative keywords, segmenting based on brands, pricing and categories and much more.
Read more about Google Shopping for web shops
We bring back shopping cart abandoners and existing customers
We use Customer Match, (Dynamic) Remarketing and RLSA (for Shopping) to retarget to them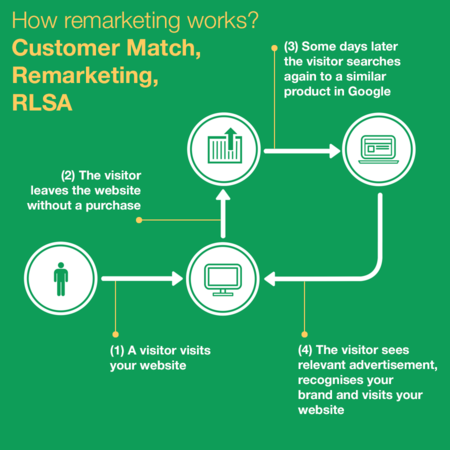 New remarketing possibilities within AdWords go much further than the banner advertisements that in most cases are not that profitable for e-commerce.
With Customer Match it is possible to reach existing customers again through search advertisements on the Google search engine. This is done through an e-mail address.
RLSA (for Google Shopping) reaches shopping cart leavers or visitors from certain parts of the website that haven't bought any products. In many cases with more than 100% increase of the yield of RLSA ads.
Dynamic Remarketing enables us to show highly specific banner advertisements with product information such as a photo, price and brand. With this, leavers of the website are once again triggered with products that they had seen in the web shop earlier.
Learn more about Remarketing for webshops
More relevant traffic from YouTube with
Shopping Cards Ads in videos
YouTube is often used by the searching consumer to get an impression of the experiences of others with a product or in order to learn something about a new product. There is also a lot of searches for tips & tricks about the use of products.
There are a lot of channels within YouTube where YouTubers discuss products and share their opinion about them multiple times per week. Now it is also possible to get Shopping advertisements for relevant products inside these YouTube videos.
With Shopping Cards for YouTube it is possible to display relevant Shopping advertisements within the videos if the potential customer watches a video in which the product is mentioned.
This interaction can be strengthened with relevant side advertisements next to the video or even a banner below the video. This can also be part of remarketing within YouTube.
Learn more about Shopping Cards voor YouTube
Our experts and our software focus on 3 areas
of effective AdWords marketing for webshops
Attracting new visitors
Getting back shopping cart abandoners and existing customers
Enhancing campaign profitability

Google Shopping, formerly PLA, shows advertisements of found products with photos and prices when searching within the Google search engine. The visitor will also be directed straight to the product page. This usually increases conversion.

With Remarketing Lists for Search Ads, it becomes possible to once again trigger viewers and shopping cart leavers with a specific advertisements if they later search for products in the Google search engine.

Negative keywords

Negative keywords are one of the most underrated optimization tactics for text advertisements and Google Shopping. Especially when it comes to the latter, negative keywords are very underutilized and is very effective.

Dynamic Search Ads are special advertisements that are aimed at content on the website, with which it is possible to not only advertise based on search words but also product descriptions, specifications, etc.

Customer Match is comparable to Facebook Custom Audiences, but for the Google search engine. With this it is possible to retrieve e-mail addresses of leads and customers from the CMS and to show a specific advertisement to this target audience.

Bidmanagement

To maintain the ROI it is necessary to offer more per click on better performing products. With thousands of products, it can't be done manually. Our smart software helps us find the optimal bids for Shopping segments and search words.

YouTube is the most used search engine after Google. There is a lot of searching for product reviews, experiences, Do-It- Yourself, etc. With Shopping Cards it is possible to show your products within relevant YouTube channels and videos at the right time.

Remarketing by means of banners yields a relatively low ROI for web shops. With Dynamic remarketing the banners contains advertisements for products that the visitor saw or had placed in their shopping cart. This yields a better ROI.

Shopping feed optimalisaties

By excluding products of which the ROI is too low, other products get more exposure. By placing relevant search words in titles, products are also shown earlier in Shopping. By arranging segments based on price / yield per product, bids can be used more effectively.

Category level advertising: In many cases a consumer searches for a product category instead of a single product. In such a case, making sure the visitor reaches a category page raises conversion.
Product level advertising: If a specific product type is being searched for in combination with brand, model, variant and color, text advertisements will be shown containing the product name, brand and price. Nice addition to Google Shopping.

Remarketing offers the possibility to approach leavers of the web shop later through banners on the sites of third parties (blogs, news sites, forums, etc.) It is also possible to display advertisements within YouTube in or next to the videos.

Testing keyword and advertisements

Both advertisements and search words should be optimized. Sometimes a certain keyword didn't work 6 months ago but does now. That is very clearly visible with seasonal products. Our Robot keeps tabs on that. A/B testing of advertisements raises the CTR.
Comprehensive management of your AdWords account for a fixed price
Cancel anytime
Personal consultant
Advanced automation
We are proud of the results we deliver to our clients
and they reward us with 100% 5-star reviews:

Monthly management fee for
fully managed AdWords campaigns:
$324 or €299
What are your average monthly AdWords costs?
Fees are per website, country or target language · All prices are ex. VAT