Remarketing for Webshops Want to increase your Google AdWords ROI by 200%? We bring shopping cart abandoners and existing customers back with RLSA, Dynamic Remarketing and Customer Match
Get in touch
We have done this before for:






---
Returning visitors convert better

In the above example we see that returning visitors are (generally) worth more because they have a higher chance of converting.
These visitors are occasionally loyal customers. And sometimes they are the visitors that were not yet ready to make a purchase when they last visited your web shop.
Visitors that visited your website but didn't make a purchase often go back to Google to start searching for the product again. Sometimes because they now know exactly what they are looking for and sometimes because the time is right.
---
RLSA for Shopping and Search Ads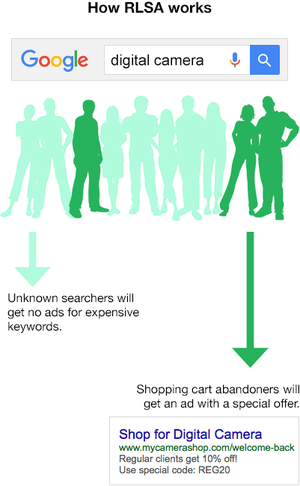 With Remarketing Lists for Search Ads (RLSA) shopping cart abandoners of your store can be recognized within the Google search engine when they start searching again. We don't talk about the older method with haunting banners on third- party websites). RLSA has 3 advantages:
The returning visitor is worth more, so it is worth the effort of paying per click for this group.
Because these visitors are more likely to make a purchase, more general search terms that are normally too expensive can also be used.
In many cases existing customers will search for a product in the Google search engine again, which might also be available in your web shop. We can 'intercept' these customers and instead of going to the competition, direct them to your web shop.
This technique can be used for both text advertisements and Google Shopping.
The results are often very positive and can yield up to 200% higher returns.
---
Dynamic Remarketing for Google Shopping
We use Dynamic Remarketing to reach shopping cart abandoners using display banners on third-party websites. These banners are aimed at the shopping cart abandoner and contain targetten products.
Here we see an example of such a banner. The products in these advertisements are not randomly chosen. They are the products that the abandoner of the website clicked on or saw within a particular category.
They could even be the products that the potential customer placed in his shopping cart, but didn't purchase.
These banners contain photos of the products, prices and possibly other elements that are recognizable to the potential customer. It is even possible to interact with these banners. The ROI of this form of remarketing is higher.
---
Getting back existing customers using Customer Match
Customer Match is a combination of e-mail marketing and remarketing within the Google search engine. This makes it possible to show ads to only existing customers or leads.
The advertising is done using an e-mail address of the customer. It is possible to show specific advertisements to everyone that is logged into Google using that address.
In the example shown here we see that existing customers get an ad with a discount code, but unknown searchers get no ad for the expensive keyword.
This is the power of Customer Match. You can compete on expensive search terms, because existing customers and leads usually convert better and buy for higher amounts. This gives you an edge over competition that has to buy expensive search terms for every searcher. And if your existing customer searches through Google again, the chance is higher that he won't go the competition.
This technique is currently only suited to long tail search campaigns, but results are very positive. Doubling of the conversion percentages and lowering the costs per conversion with 30-50% are not unusual.
Remarketing for Webshops costs $324 per month
Bid management
Audience management
Campaign optimizations
Remarketing brings shopping cart abandoners and existing customers back.
With up to 200% increased ROI on your AdWords campaigns.

Is Remarketing suited to your webshop?

Get in touch