21+ Best Marketing Apps for Shopify
Most businesses start small. This is where Shopify excels because the platform provides a simple and easy-to-use solution where you can set up a basic online store in seconds. However, when you're looking for new ways of driving business growth, whether it increasing your sales and conversions, streamlining your drop-shipping process, or improving your email marketing metrics, you'll have to go outside of Shopify to find suitable solutions.
Compared to all other ecommerce platforms in the market, Shopify is at the top rank when it comes to availability of a wide range of high quality apps or extensions. . Take the time to visit and read through app descriptions at [Shopify App Store
Apps are grouped based on categories (Marketing, Sales, Tools, Reporting, etc) and you'll find a multitude of apps under each one. If you want to cut the chase though, here's our list of the best Shopify apps (free or paid) ranging from out-of-stock notifications to exit offers.
Need more help with your e-commerce business? Check out Neil Patel's useful free ebook about building an e-commerce business.
1. Flashyapp Marketing Automation
Flashy is the all-in-one solution for e-commerce marketers, they have figured out the best way to understand, communicate and get results from your customers. They offer smart popups, marketing automation, email and SMS marketing while all the channels can be highly personalized to the customer based on previous purchases, cart value and more. To make your life easy, once you signed up you will get the must have automations for any e-commerce store: welcome series, cart & browse abandonment, win back automation and more. One of the things they've invested in lately is the marketplace, where you can find best performing email templates, popups and marketing automation funnels.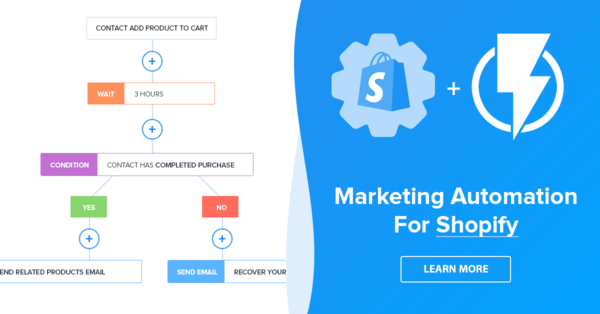 Extension Details:
Price: $40/month. Free up to 250 contacts.
Rating: 5/5
App link: Marketing Automation for Ecommerce
2. Omnisend
Omnisend is an omnichannel marketing automation platform built for ecommerce. This all-in-one marketing automation platform is chock-full of robust features that allow ecommerce marketers to create better relationships with their customers. Omnisend's ultra personalized targeting and omnichannel features mean that marketers can make sure their messages are always relevant.
Omnisend allows you to add several channels to the same automation workflow: email, SMS, web push notifications, Facebook, WhatsApp, Viber and more. Easy email capture features make list building easy, and smart segmentation means you can send the right message to the right person at the right time.
Omnisend also integrates seamlessly with Shopify and makes browse and cart abandonment messages a snap.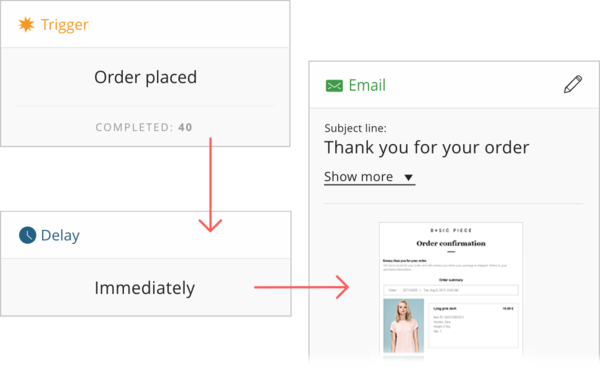 Extension Details:
Price: $16/month. Free for basic email marketing up to 15,000 emails per month.
Rating: 5/5
App link: apps.shopify.com/omnisend
3. Advanced Google Shopping Feed
Want to start advertising on Google Shopping? Then, you must have a product feed to upload in your Google Merchant account. While almost any product feed works, you will definitely want to get the biggest bang for your buck. With a lot of product feed apps in the Shopify app store, it might get a little bit tricky to choose one.
Simple Google Shopping Feed creates a fully fledged Google Shopping product feed which you can use not only for Google Shopping, but also for any other platform that requires a product feed. With features such as generating the missing GTIN numbers (EAN ISBN, UPC), including all the variants in the feed, and not only the main product, tagging 'out of stock' products correctly (so you don't advertise them until you have it on stock again), and extending the titles with the product attributes (color, size, etc.) you will have the most comprehensive product feed.
The app is easy to use, has a straightforward set up and it's saving you a lot of time and headaches!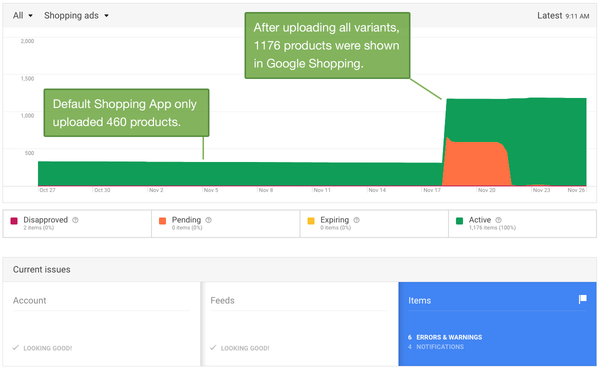 Extension Details:
Price: starting $7/mo, 14 days free trial
Rating: 5/5
App link: apps.shopify.com/simple-google-shopping-feed
4. Product Upsell
With 745 good reviews (as of writing) at Shopify Appstore, you could say that Product Upsell is one of the most popular Shopify apps. BOLD's Product Upsell does exactly what its name says and more. The app offers customizable upsell offers that are relevant and that makes sense to the customer. It works both ways: you're reminding your client what they could be forgetting and you're making additional sales. Case in point: extra batteries for a camera purchase. You can also make offers depending on their existing cart's dollar value.
Here's how you can skillfully upsell to your client using the app: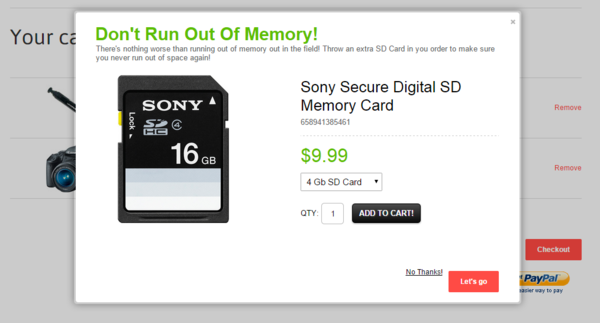 Extension Details:
Price: $9.99 - $59.99/month, Free 90-Day Trial
Rating: 5/5
App link: apps.shopify.com/product-upsell
5. Back in Stock
We've all had our share of this kind of devastation. The product that we're finally buying, after considering for a long time, ran out of stock. While customers are disappointed, it's a lost sale on the side of businesses too.
Back in Stock, a Shopify App from Yellow Robot, helps lessen the disappointment from out-of-stock scenarios. With Back in Stock, customers can sign up to receive an email alert once the product is restocked. They don't need to visit the store frequently to check the stock status; they just need to wait for the email.
The email notification includes a Buy Now button, making it all the more convenient for your customer to immediately place his order.
Here's how you can convert that disappointed client to a happy would-be buyer (once your item is restocked of course!):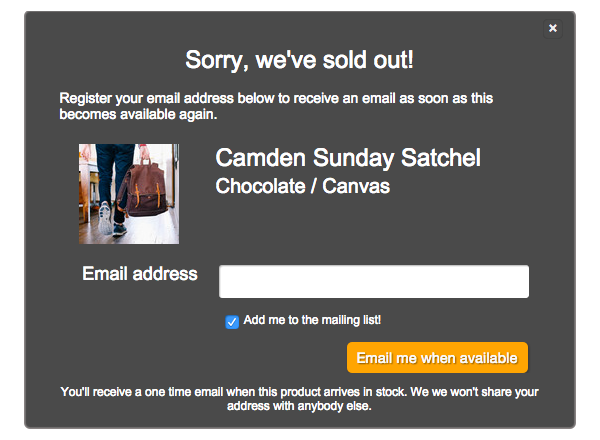 Extension Details:
Price: Starts at $19/month, Free 30-Day Trial
Rating: 5/5
App link: apps.shopify.com/back-in-stock
6. Fablet by ShopPad
Studies show that everyday, an adult spends 5.6 hours occupied with digital devices. Out of the total hours, they spend 2.8 hours of 51% of the time on their mobile phones. This means that in order to build a larger customer base, creating a mobile site should be part of your to-do list. ShopPad's Fablet makes it easy for storeowners to create a responsive mobile app, one that renders well on both mobile and tablet, without the need for expert coding skills.
Here's how a store with a Fablet app will look like on mobile: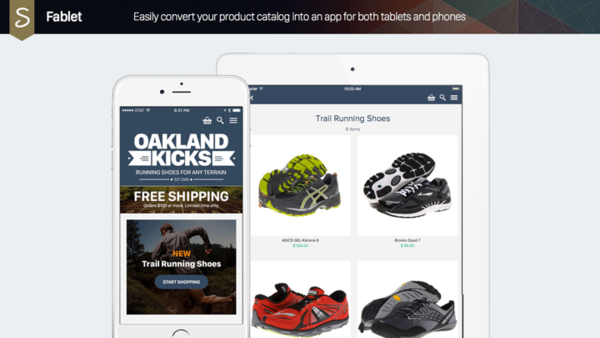 Extension Details:
Price: Free to $250/month depending on your chosen plan
Rating: 5/5
App link: apps.shopify.com/shoppad
7. Loyalty Reward Points by Sweet Tooth
What's the best way to promote your brand? Encourage your shoppers to keep coming back and to get the word out. A rewards program sets you apart from your competitors and makes your customers stick with your brand.
Sweet Tooth has become an expert in designing and developing efficient rewards programs for e-commerce platforms. With Loyalty Rewards Points, you can set up a points system for purchases, additional points for referrals, as well as points for social media followers and sharers.
Here's how a sample Loyalty Rewards Points program works: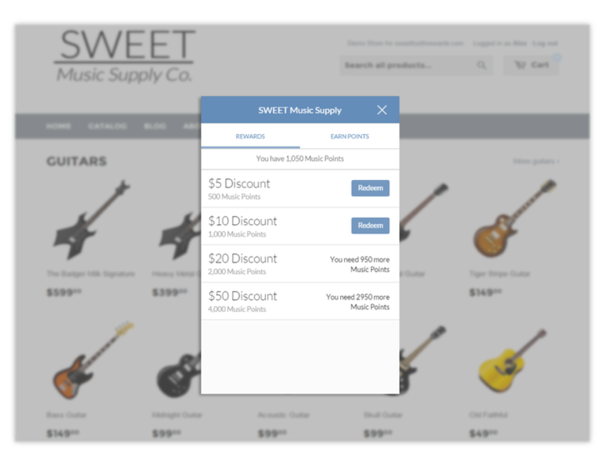 The platform, with its easy setup and reliable technical support, makes it hassle-free for owners to engage with their biggest endorsers – their loyal customers.
Extension Details:
Price: Free for less than 500 members. Plan price starts at $59 to $399+/month depending on number of loyalty program members.
Rating: 5/5
App link: apps.shopify.com/sweet-tooth
8. Receiptful
Turn mere records into an effective marketing technique.
Receiptful, developed by the company of the same name, provides an awesome way to customize your brand's transactional receipts to include discount coupons, referrals, product upsells, feedback requests, and social media sharing functions on an otherwise regular receipt.
Receipts used to be an untapped channel of conversions and stores who are using Receiptful report extra sales generated simply by issuing customers a personalized receipt. This helps turn clients into loyal customers too!
Who won't be ecstatic to come back and purchase more when you get something like this?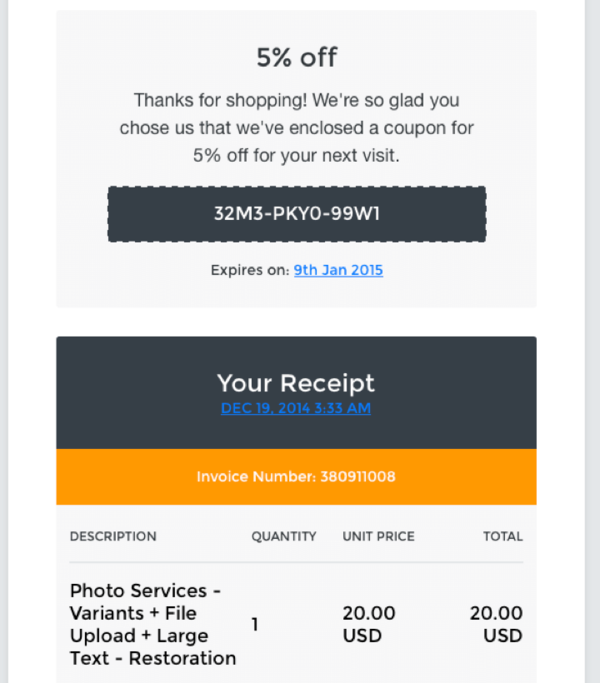 Extension Details:
Price: Free but if you want unbranded receipts and additional functionalities, purchase the premium plans. Price starts at $19 to $199/month.
Rating: 5/5
App link: apps.shopify.com/receiptful
9. ContactPigeon
Email marketing for a growing Shopify store is not enough in 2019. You need to create multiple, personalized touchpoints with your customers to gradually build relationships, convert and increase their retention. This is what ContactPigeon's marketing automation platform does best.
Armed with built-in eCommerce recipes for easy onboarding, allows a store manager to build automations across multiple channels including email, push notification and SMS and create a behavioral-driven omnichannel marketing strategy. The tool also contains easy drag and drop automation builder, dynamic segmentation, other features like list building & exit intent pop ups, as well as a detailed analytics dashboard to track your campaigns' conversions and performance.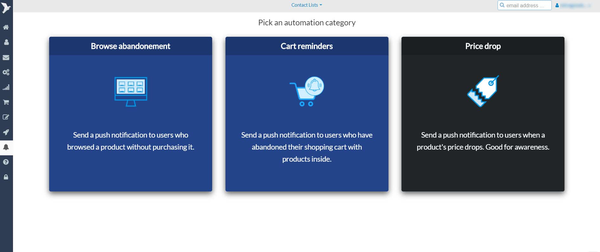 Extension Details:
Price: Starting at $198/month, include free onboarding with dedicated customer success consultant.
Rating: 5/5
App link: apps.shopify.com/contactpigeon-1
10. Yotpo Reviews
Can you think of a time when you really had no idea about the quality of a product but good reviews online prompted you to purchase? If you say yes, you're not alone. According to a study, 67% of buyers are influenced by online reviews.
Get reviews for your products and you'll consequently make it easier for new clients to proceed with their first purchase. Yotpo Reviews for Shopify features an in-mail review form that makes it absolutely convenient for anyone to leave a review without having to follow links going to your site.
Easy, right? Based on statistics from Yotpo, you can get up to 9x the number of reviews on your site with this in-mail review functionality.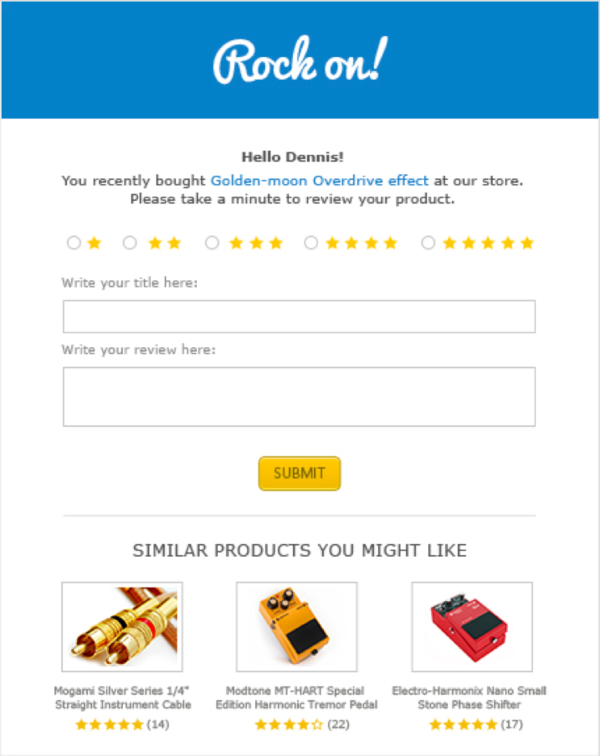 For a full-feature setup, you'll get functionalities for uploading user-generated photos, social media integration, discount coupons, and Q&As.
Yotpo only provides the functionality to allow and manage reviews. It's still up to you to manage reviews, both the good ones and the bad, as part of your customer service strategy.
Extension Details:
Price: Free. Pay additional fees for extra income-generating features.
Rating: 5/5
App link: apps.shopify.com/yotpo-social-reviews
11. Plug in SEO
Pemberton Rank's Plug in SEO does exactly what it says it does. The app checks your online store for any issues that could affect your search engine results page ranking.
The best part is the app won't leave you hanging. After identifying the problem, the plug in will provide a detailed set of instructions on how you can fix it yourself. Those with a technical know-how will appreciate how helpful the app is, even providing the specific code snippets so you can get it done on your own.
However, if you think that the solution might be too complex and might complicate other parts of your website, you can always go ahead and let your developer work on it. Here's a sample result: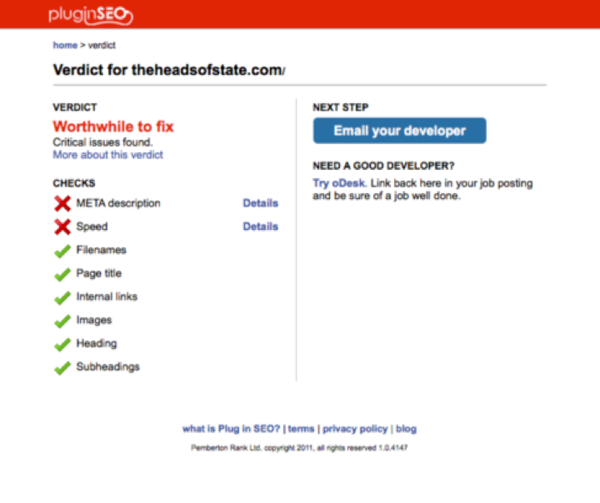 Extension Details:
Price: Free
Rating: 5/5
App link: apps.shopify.com/plug-in-seo
12. Socialphotos
Social media reputation has become a modern form of word-of-mouth marketing.
Take advantage of the good things that your customers have to say about your brand (and their creativity too!) by curating content from Instagram photos. Socialphotos is an app where you can collect photos using hashtags and display them in an album on your online site. You'll also have the access to approve photos first before they get published on your site and you can select and highlight the best ones.
Here's a sample of a curated album for a retail shop: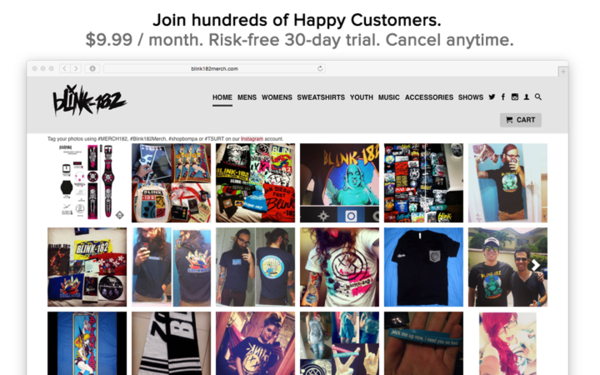 Online stores using SocialPhotos have reported an average of 5% rise in sales and 9% increase in conversion rates.
Extension Details:
Price: $10-$50/month. Free 30-day trial.
Rating: 5/5
App link: apps.shopify.com/social-photos
13. Exit Offers
"Don't leave just yet!" is something you say to potential customers who are about to leave the door when you've just exerted enormous amounts of marketing effort to make them visit in the first place. Exit Offers developed by Sticky Apps does the same thing in the digital space.
Exit Offers will allow you to offer an instant discount to anyone about to leave the site or a shipping coupon to who are about to abandon their carts. Unexpected costs (such as shipping fees) is one of the top reasons of cart abandonment. Aside from being upfront with fees (no hidden charges), you can also offer a free or discounted shipping rates to convince the customer to proceed with the purchase.
It's easy to configure too. Here's Exit Offer's simple setup page:
Extension Details:
Price: $9.99/month. Free 14-day trial.
Rating: 5/5
App link: apps.shopify.com/sticky-exit-offers
14. RetargetApp
Sometimes a customer would put buying on hold because the desire to buy is not urgent or he is simply not compelled to proceed. Retargeting is the most suitable form of marketing for customer visits that did not result to conversion during the first try.
RetargetApp for Shopify caters to users on Facebook. Once a user browsing a specific product leaves your site, RetargetApp's cookie technology will allow the app to show relevant products to the prospective customer while he or she is scrolling through his Facebook feed. This will remind the user of his interest in the product and will consequently translate to a higher conversion rate and increase in ROI.
It's also a plus that RetargetApp has an easy setup page that includes a preview of your Facebook Dynamic Ad.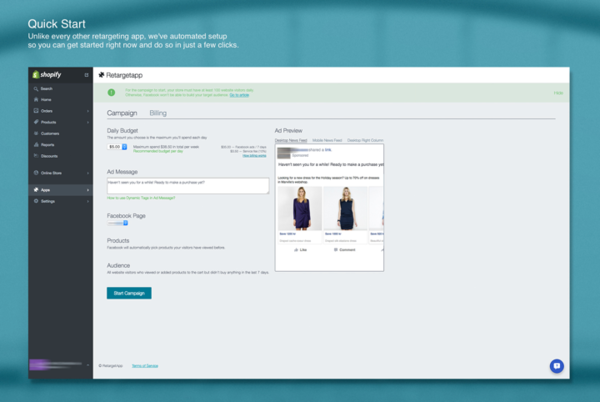 Extension Details:
Price: 10% of the campaign budget on Facebook
Rating: 5/5
App link: apps.shopify.com/retargetapp-facebook-retargeting
15. Better Coupon Box (discontinues)
Beeketing's Better Coupon Box helps you make a good first impression. Once the customer is on your site, all your actions should be focused on the customer making a successful purchase.
Better Coupon Box provides the platform where you can configure a pop-up with a discount coupon on the first time that customers visit your store. The app creates responsive UI/UX for the coupons so whether your users are viewing your site from a laptop, a mobile phone, or a tablet, they will have the same elegant coupon on a seamless popup box.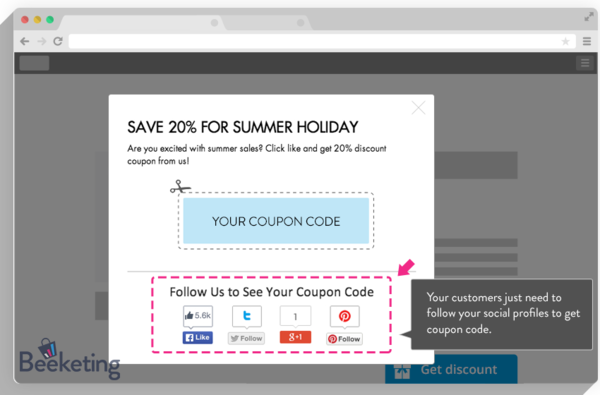 Extension Details:
Price: 10% of the campaign budget on Facebook
Rating: 5/5
App link: apps.shopify.com/better-coupon-box
16. SEO Manager
Getting consumers to find your site is the first hurdle that most shop owners have to face. Marketing through social media is one thing but another aspect that can bring in more sales come from organic searches. You should rank higher on search engine result rankings and this can be done through Search Engine Optimization.
NewLeaf Labs' SEO Manager app for Shopify helps online stores to move higher on the search results. The app has more than 20 features and according to their product page, you can only find 15 of these features on SEO Manager and not on other SEO apps.
Some features include real time repairs of broken links, page speed integration, HTTP 404 error logging, and keyword suggestions. The app's interface is quite impressive too with its simple and clear descriptions.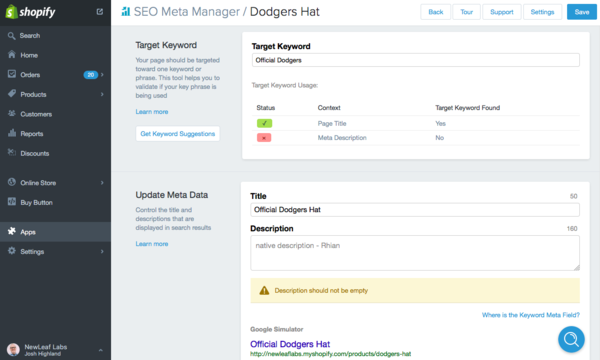 Extension Details:
Price: $20/month. Free 7-day trial.
Rating: 5/5
App link: apps.shopify.com/seo-meta-manager
17. eCommerce Email Marketing by Soundest
eCommerce Email Marketing by Soundest is an all-in-one email marketing solution for Shopify offering setup functionalities for Welcome emails, Cart Recovery, and Campaign Booster features.
Creating an email newsletter with this app from Soundest is 10x faster too because all you need is to pick the products straight from the website while browsing and the app will automatically include the rest of the details - price, photos, and description – in the newsletter. This feature, along with free 15,000 emails a month and the app's clean interface, make it a clear contender for MailChimp on Shopify.
Here's one of Soundest' client using the Welcome Series email function: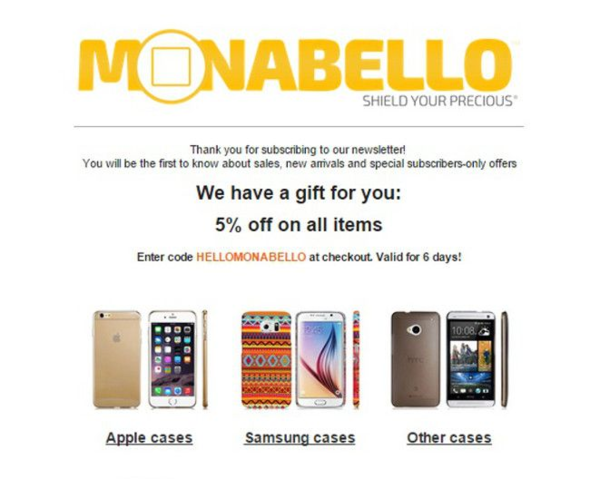 Extension Details:
Price: Free for up to 15,000 emails per month. Premium plans start at $10 to $30/month depending on number of subscribers. Free 14-day trial of Premium features.
Rating: 5/5
App link: apps.shopify.com/seo-meta-manager
18. Social Media Stream
Do you want to update your site visitors about the latest on your social media platforms? Social Media Stream from PowerUp brings all platforms on a single stream with just a one-click installation and without the need to embed photos and links to your site.
The display looks great whether on laptop, tablet, or mobile with one reviewer commenting that the collections looks like a magazine cover. The app collates content from Facebook, Instagram, Twitter, Youtube, Pinterest, and Tumblr. This functionality is available for free but if you want to get value-added features such as full moderation and dedicated support, check out the premium plans.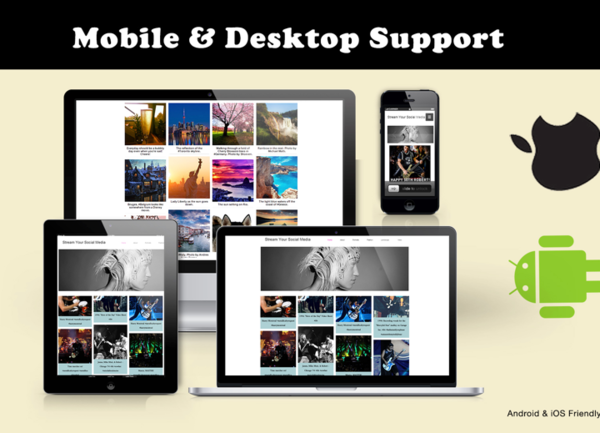 Extension Details:
Price: Free
Rating: 5/5
App link: apps.shopify.com/stream
19. Improved Contact Form
Do you want to setup a contact form but you don't have the required coding skills? Awio's Improved Contact Form delivers what you need and it only needs a few seconds to setup. What's good about the contact form is that you can customize the fields that you want to include (name, email, mobile, etc), choose whether you want an in-page contact form pop-up, or a contact page shop.
Here's the bonus: it's not your usual contact form. The app is smart enough to provide you with the user's location and IP address plus the information on how they landed on your site and what pages they were browsing before the contact form was triggered.
Look at the details that you'll get from the app. From this, you'll be able to gather a quick view of the customer's interests and you can better address his/her inquiry.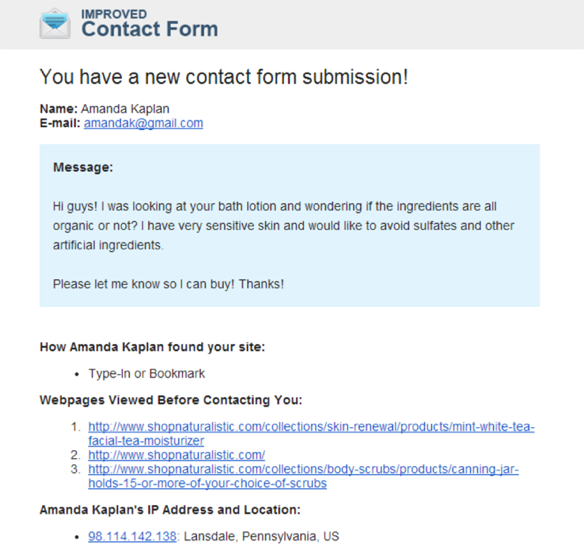 Extension Details:
Price: Free
Rating: 5/5
App link: apps.shopify.com/improved-contact-form
20. Rewards and Referrals by Swell
Swell Rewards Shopify app knows exactly what it takes to take care of old customers and how to build a lasting relationship with new ones. With Rewards and Referrals, you can effortlessly configure freebies and promos for reaching purchase targets, referring new customers to your site, subscribing to your newsletter, or simply visiting a page on your site.
Unlike rewards that you can only offer online, the app can be readily integrated with Shopify POS so if you also have a physical store, you can provide the same discounts to your shop buyers.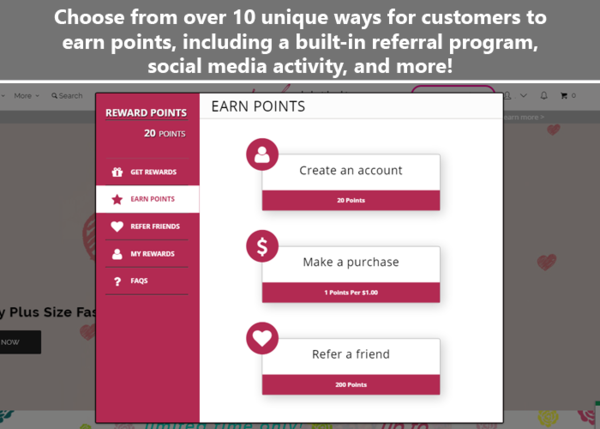 Extension Details:
Price: Free for orders less than 100/month. Premium plans start at $9 up to $1999
Rating: 5/5
App link: apps.shopify.com/swell
21. Pop-up Window
When you're first starting out with an online store, the idea of coming up with a marketing strategy can be a tad overwhelming. Pop-Up Window, the Shopify app from LifterApps, is a go-to app to increase sales. It's straightforward to use and its purpose is clear – show a pop-up to notify users about offers and ask them to sign-up.
All of the app's pop-up windows are responsive and renders great on any device – whether laptop, tablet, or mobile. All the plans include email signup forms, report of subscribers, and coupon codes.
Here's the dashboard of Pop-up Window app. Notice how simple it is to setup a new promo pop-up? There's no complicated procedure to create a visually pleasing pop-up window.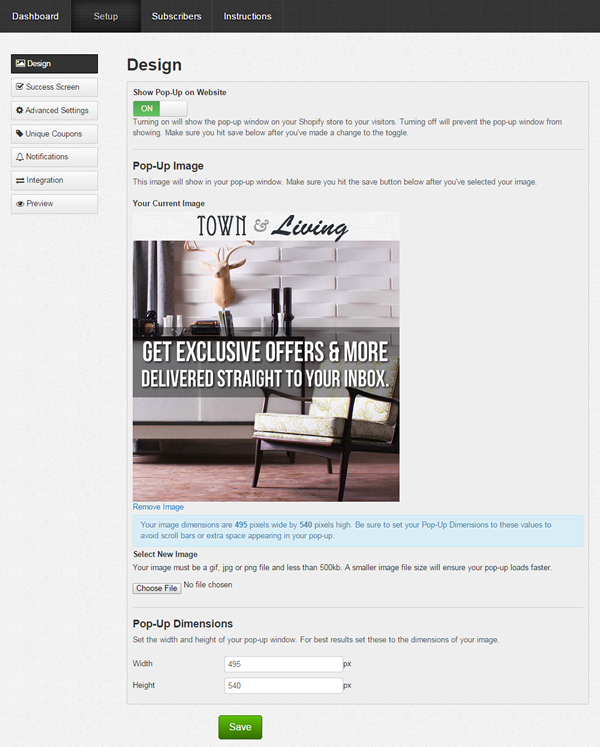 Extension Details:
Price: $5.95 - $12.95/month. Free 7-day trial
Rating: 5/5
App link: apps.shopify.com/pop-up-window
22. Refersion: Affiliate Tracking
Affiliate Marketing has grew in recent years after online stores and business-savvy individuals realized that it is beneficial to both. Affiliates get paid depending on the conversions they bring to the site while businesses get an increase in sales and subscriptions without having to spend more than they should on marketing campaigns.
If you want to follow the path of Amazon who has amassed sales through affiliate marketing, start with getting the right app to track your affiliate sales.
Refersion's Affiliate Tracking app features a customized page where users can sign-up and register as affiliates as well as track their own stats on their dashboard. On your Admin panel, you can easily manage payments via PayPal and view the full end-to-end tracking of conversions via affiliates.
You'll find all these informative data on your dashboard: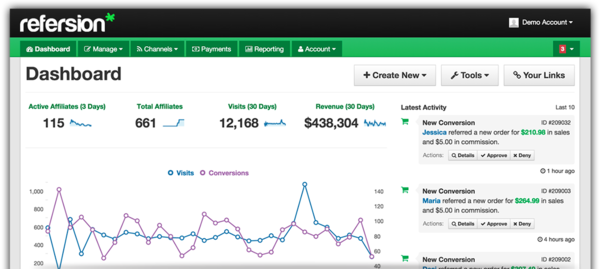 Extension Details:
Price: Plans start at $19/month plus a percentage of your affiliate sales
Rating: 5/5
App lin: apps.shopify.com/refersion
23. Promotion Bar
When you have an online store, you constantly need to communicate various messages to your shoppers - whether it's news about a new collection, or a special offer. There are a lot of tools that help you grab the shoppers' attention. One which is particularly elegant about it is Promotion Bar. It's a simple clever tool which adds a sticky notification bar to the top or bottom of your store. It's very noticeable but not but not as intrusive to the user experience as other popups are. Many stores use it as a free shipping notification, but you can also add a mailing list opt-in, or drive traffic to specific product you want to boost. You can use it for free as much as you like if you just want to post messages and offers, and the premium edition let's you add buttons, email subscribe boxes and more design features. Here's how it looks in a store: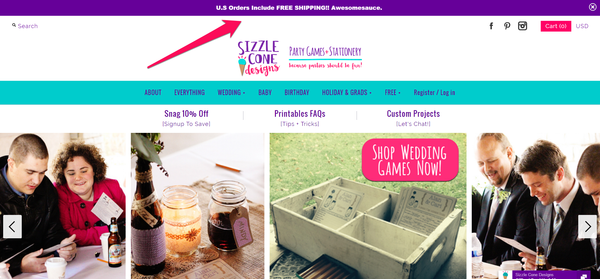 Extension Details:
Price: Free for posting messages, $4.99/month for extra features like subscribe box and animations.
Rating: 5/5
App link: apps.shopify.com/promotion-bar
24. Recurring Orders
Are you selling consumable products? Chances are, your customers are going to order in the next month or so. With Recurring Orders app from BOLD Commerce, you can give your customers the utmost convenience of not having to manually order on a regular basis. They can just subscribe to your product. This means that they can subscribe to a product or an entire cart once, schedule a shipping interval, and have the products delivered to them regularly. Aside from this fantastic function that boosts sales and customer loyalty, app reviews also rave about the app's clean interface and easy management as well as BOLD's attentive support and quick service.
See photo below for Recurring Order's neat and well-defined interface: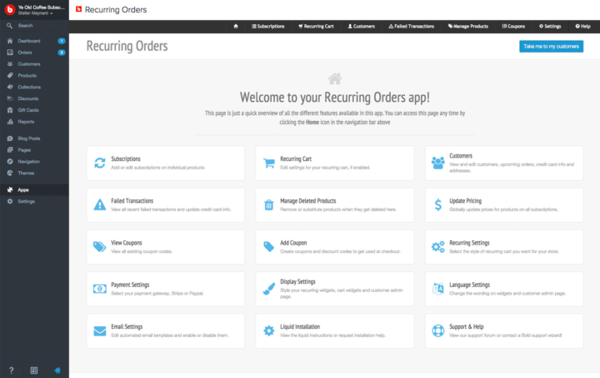 Extension Details:
Price: $19.99/month, Free 30-Day Trial
Rating: 5/5
App link: apps.shopify.com/recurring-orders
Download the free ebook!
The Complete Guide To Building An E-Commerce Business by Digital Sherpa