25 Ways to Increase Your E-Commerce Revenue
Here are the facts: a 2013 study shows that 41.3% of internet users have made online purchases. This is seen to be on a continuous upward trend reaching 47.3% by 2018. E-commerce sales has reached 1,672 billion US dollars in 2015 and is expected to reach USD 2,995 billion in 2018.
What does this mean for e-commerce businesses? These data prove that profit will continue to rise through the years and it is up to e-commerce business owners to take advantage of this growth.
If you're looking for ways to boost your e-commerce sales, here are 25 ways that you can start with:
Need more help with your e-commerce business? Check out Neil Patel's useful free ebook about building an e-commerce business.
1. Focus on Your Market
If you're selling to the wrong people, you'll only be wasting money. It is important to know how to reach out to your target market, recognize what they want in a product or service, identify how they search for what they want, and understand how they compare their options.
ConversionXL lists out ways on how you can zero in on your market:
If you don't have data to begin with, talk to your prospective customers and start doing your own research. You can do this by meeting them in person or by sending out surveys to customers who purchased in the past month.
Learn the ins and outs of Google Analytics. It's a free, powerful tool that you can immensely benefit from, if you know how to use it. Here are customized configuration for Traffic Sources, Keywords, and Ecommerce Channels reports to get you started.
2. Reach Out to Repeat Customers
Spend time and resources on acquiring new customers but keep your loyal customers happy.
This is what the new data from Adobe's The ROI from Marketing to Existing Online Customers show:
In the US, repeat clients only represent 8% of the visitors
Repeat clients contribute 41% of the revenue and the figure goes higher during the holidays
Revenue from the purchase of 1 repeat customer is equivalent to orders from 5 new shoppers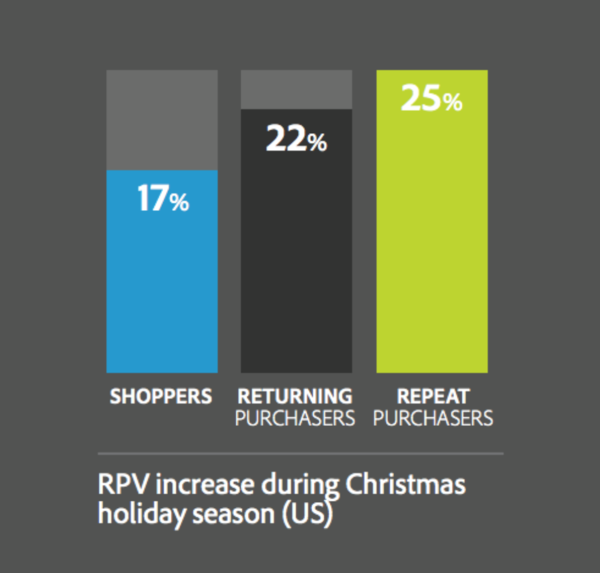 RPV increase during Christmas holiday season (US)
What does this mean for marketers? Your repeat customers bring in the profit.
Build relationships. Keep in touch. Send them emails or messages whenever you have a new campaign. Be personal in your approach and send them greetings on their birthdays.
Show them gratitude for being regular customers through personalized notes and if they have special requests for their orders, go out of your way to find out ways to meet their needs.
3. Use Brilliant Product Descriptions
So how do you make product descriptions that make the sale?
First, think of it as writing to one person who completely embodies the buyer's persona.
What are this person's hobbies? What are their interests?
These are some of the questions that you should answer to know the tone of writing that you should use. Should you be funny and conversational or should you be business-like and direct? This will depend on what your buyer finds engaging. MailChimp has come up with a guide on using the right voice and tone depending on your users' needs.
Next, focus on the format. Research suggests that users only scan words on websites and rarely reads the entire page content. This means that you should make your product descriptions easy to read. Use subheadings, bullet points, large, readable fonts, and lots of white, uncluttered space that will make reading a breeze.
4. Stop Forcing Users to Register Before Buying
Based on this article on KISSmetrics, 23% of users don't proceed with the purchase if you ask them to register before checkout.
It does not matter whether your users don't have the time to do it or they don't just like the process of creating an account. The point is they will leave your site and get their stuff elsewhere. You should be after making sales, not increasing the membership list.
To address this, provide an option for Guest checkout.
Here's a sample of how Apple does it: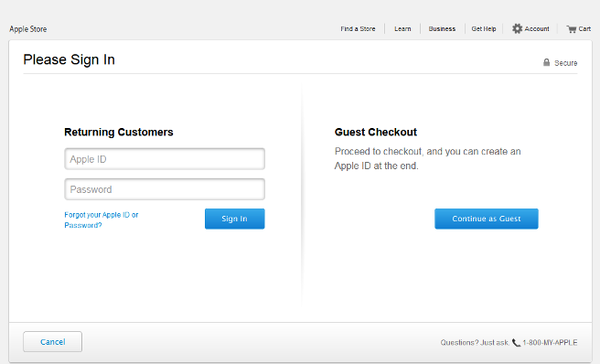 Apple checkout page
Users will save a few minutes of their time in making the purchase. If they become a returning customer with their good experience on your site, they might see the value of signing up.
5. Use Great Product Photos
You may have the best product in the industry but if the photos suck, there's a huge chance you won't make it in e-commerce. Online shoppers rely on the website photos for a sample of what they will be buying. Make these photos as enticing as you can but remember to always keep it real.
For starters, we've shared 30+ ways that you can do to improve on product photography. All you need is a decent camera (or you can use phone), a tripod, a white background, and a room filled with natural light. Once you have your raw images ready, transfer it to a computer and retouch with photo editing software such as Adobe Lightroom.
Have some extra budget? Hire a professional and invest on product photography.
6. Use Product Reviews to Your Advantage
A shopper knows that he needs your product but he is a bit skeptical. He looks at another website and feels better in purchasing your competitor's product.
This is a common scenario in online shopping. This could have been avoided if you used item numbers 3 (product description) and 5 (great photo) and if you had product reviews on the page.
Product reviews are social proof that the item or the service works. A hesitant buyer can read product reviews and immediately be converted. So how do you get customers to review your products?
Soldsie teaches us ways on how we could gather reviews:
Put a thank you note in the delivery package plus the link to your review page.
Offer a significant amount of cash or store credit as a reward for lucky customer reviews
Send an email to your customers 1-24 hours after purchase to ask them to review their items. To prevent a 1-star or 2-star review from making it online, include a phone number that they can contact for complaints and concerns.
If a bad review makes it on your page, address the review properly and promptly. If anything else, you will be displaying excellent customer service.
7. Manage Shipping Costs Wisely
This study from Business Insider reveals that a whopping 58% of online shoppers abandon their carts once they learn of the shipping costs.

Top reasons for abandoning shopping cart
What does this mean for marketers?
It's good to be upfront. Let your customers know about shipping costs early on in the purchasing process. Aside from costs, provide details on the estimated delivery duration as well.
Next, consider if you can offer free shipping once customers reach a specific purchase threshold. In a study by RJMetrics, 40% of buyers will add more products to their cart if they are offered free shipping. Make sure that this offer can be seen by the customers on most parts of your website – from the home page, product page, up to the checkout page.
8. Sell More with Personalization
We all like it when the barista in our favorite coffee shop knows what we want even before we say it. It's a plus too if they can recommend a pastry to go with our drink.
That's how it works with online selling too. Statistics show that 10-30% of revenues come from product recommendations.
To do this effectively, decide on the features that you would like to focus on in upselling. Is it an additional functionality or a better material for a slightly higher price? Use data from customer's previous purchases and searches to strengthen your up-selling, add-on sales, and cross-selling strategies.
Business.com provides an insightful tip on cross-selling: follow the rule of 25. Make recommendations within 25% of the customer's total purchase. Any upsell or cross-sell beyond 25% of the price will come across to the user as ridiculous. Keep your recommendations to a minimum too.
9. Optimize Your Site's Speed
Loading time affects your overall revenue. Data shows that 47% of people expect websites to load within 2 seconds and 40% exits the browser if the site takes more than 3 seconds to load. A one-second delay in loading time can mean millions of lost sales. You'll also decrease your chances of conversion once your website loading time passes the 2 second mark.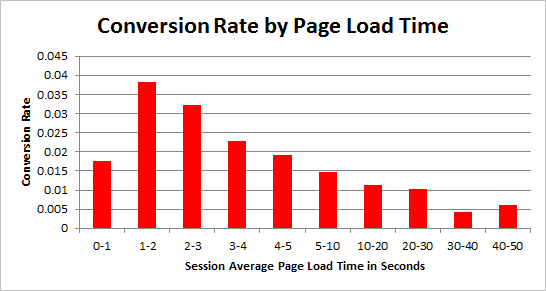 Conversion rate by page load time
You may think that your concern should be on providing good products or services but before customers can experience how awesome these are, they'll have to go to your website first. Don't turn them off with a slow loading site.
Pingdom is a free tool that you can use to check website speed.
Here are some tips on how you can make a faster, more efficient website from Practical Ecommerce:
Use compression software to lessen data size.
Ask your hosting provider for assessment of your current traffic size. If the site crashes during peak traffic, it's time to revisit and see if you can get a bigger server.
Utilize caching technology to temporarily contain data and avoid querying the database.
10. Offer Discounted Bundles
Bundling benefits both shoppers and businesses. Shoppers get discounts on products and businesses increase their AOV – average order value - without additional overhead costs. You can encourage cross-selling too if you will include products from other categories.
Upstream Commerce shares several techniques that you can use for bundling:
Mixed bundling: Products that can be bought individually or as part of a bundle
Introductory bundling: This is a good strategy for bundling popular or bestselling products with new products that you want to introduce to the market.
Choose Your Own Bundle: This is a strategy where users can choose what they want to include in a bundle. Shopify allows sellers to offer bundles by product (eg. bag comes in a bundle with a specific wallet) or by collection (eg. bag comes in a bundle with any wallet of choice)
11. Use Video to Increase Sales
It's not everyday that you'll see a phone inside a blender set to the smoothie option. Blendtec's video of blending an iPhone 6 Plus and Samsung Galaxy Note 3 went viral and instantly increased the company's sales.
We're not suggesting that you do the same campaign… this only means that video sells. This is backed up by statistics with figures such as 800% conversion on landing pages with video and that video sells 6 times more than print and online ads.
https://www.shopify.com/blog/19542212-how-to-use-video-to-increase-conversions-and-sales-in-your-ecommerce-business Shopify] tells us of different video strategies that work:
Videos with a mix of superb storytelling and product showcase
Videos that highlights a product and provides entertainment
Educational videos that add value to your product
Product review videos
12. Study the 'Why' and 'When' of Abandoned Carts
At which part of the process do shoppers leave their carts? [This study from Business Insider points out that:
46.1% of abandoned carts happen at the payment page
34.7% occur during checkout login

Abandoned shopping cart
The 'why' of abandoned carts is still topped by high shipping costs and followed closely by the reason that shoppers only want to see the price for comparison purposes.
Understanding the reasons and the occurrences will help you address cart abandonment. Use the following ways to help resolve the problem:
Make the checkout an easy process. Keep it to 3-5 steps.
Simplify and streamline the checkout process. If your system can keep the subscriber shipping and payment information details, it will make the checkout process a lot more convenient.
Think of offering an in-site comparison service to keep your customers from going to your competitor's site.
After a cart is abandoned, immediately send a customized email to the shopper to reach out, know why he left, and remind him of his interest to purchase.
Knowing the reason why will help give you ideas on how you can win the sale back.
13. Make Use of Social Media
There's no denying the impact of social media. Here are some of the key statistics:
Facebook contributes 64% of total social media revenue.
Instagram contributes 58 up to 120 times more engagement
YouTube videos make for 54% in ad recall
How should e-commerce sites use these data? Magento shares effective tactics to drive sales via social media. First, use keywords in your social media posts. Use hashtags to target the right audience. Research which hashtags your desired audience is using to widen your reach.
Next, remember that social media is a platform for sharing so keep your sales pitches to a minimum. Share content that will add value to your customers. This in itself will turn into conversions.
Social media presents a good way of interacting with your customers too. Join Facebook groups, create polls, and build partnerships with social media influencers within your domain to help reach out to prospective customers.
Take control of your social media campaigns. If you need to learn a few things on social media, you'll find this Beginner's Guide from Moz very helpful.
14. Use Mobile Commerce
It might be high time to invest in your mobile platform. A research from 2015 shows that mobile commerce platforms contributed to 29.7% of the total US e-commerce sales. This figure is expected to go up in the next few years. While you may not see this as a big factor to your sales now, it will be a wise idea to think ahead.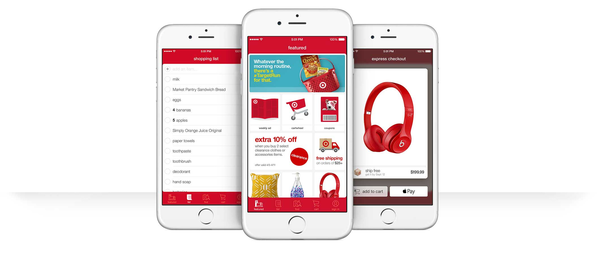 Target mobile app
Target has been ahead of the game with their mobile platform. The usual practice of e-commerce sites is to condense their main website and deliver in a format suitable for mobile. We can definitely learn from Target who has taken it a notch higher by providing exclusive deals for their mobile customers. From managing registries, store locations lookups, showing featured products, and gift card downloads, Target has mobile commerce down to a T.
15. Add Live Chat to Your Website
If shoppers have a question for a specific product that they're eyeing, would they wait for someone to pick up the phone or to answer their email? Chances are they would do neither. They will just switch to other stores offering the same thing.
Incorporating a Live Chat to your page makes the difference. Kissmetrics gives us insights on the benefits of having a Live Chat tool:
It's a customer service rock star. Live Chat is the most convenient way for users to contact you. If the user is having problems in the checkout page, having immediate access to customer support will help you make the sale.
It helps cut down on call center expenses.
Live Chat conversations can help identify customer's needs that might be a potential new source of income.
16. Increase Sales with Coupons/Deals
Magento has come up with an eye-opening post about the use of coupons. Did you know that emails with coupons contribute a 48% boost in revenue per email compared to other promo emails? Shoppers also look for coupons on coupon websites, brand sites, and social media before finally making a purchase.
This helps cultivate loyalty from your customer base and entices new shoppers to purchase from your site. Offers can vary from percentage discounts, store credit, free shipping, and free gift.
Shopify gives us the rundown of when and how you should use offers: * Weekly/Monthly offers * Prelaunch offers * Seasonal offers * Subscription offers
17. Give Referral Discounts
This is the digital equivalent of the word-of-mouth marketing.
84% of shoppers value referrals from people they know. This leads the pack in Nielsen's 2013 survey on what form of advertising do people trust most.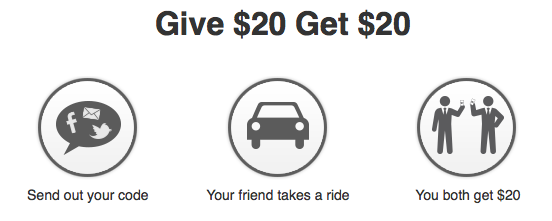 Example of a referral
Offer irresistible referral rewards and turn your loyal customers into your site's marketing helping hands. Referral SaaSquatch gives us the factors that make a successful referral program. First, you need to make your users aware that there is a program in place. Send emails, post in your website, write a blog post, or share in your social media account.
Double-sided referral, the kind that rewards both the sender and the new member, draws more conversions. It's the same method that Uber uses. Rewards can either be monetary or non-monetary in the form of early access to new stocks.
18. Set Your Eyes on Your Best Product
This follows the Pareto 80-20 principle. 80% of your profits come from 20% of your products. Therefore, 80% of your efforts should be focused on maintaining the top profitable 20%. Procter & Gamble's product slashing move in 2013 was a step in the right direction. Cutting down on portfolios allow businesses to develop, maintain, and promote their performing products.
Singular focus is what Andy Dunn, the founder of Bonobos, has highlighted as the main key to their company's strategy in his Medium post. Your unique value proposition, market fit, marketing channel, and tactics are some of the areas that you should consider if you want keep a narrow product range.
19. Focus on Security
In 2015, a report was released showing that there was a 30% increase in online retail fraud attempts. It's no longer a game of price now but also of trust and security.
An A/B test result validates the value of security signs to shoppers. Blue Fountain Media increased their conversions after affixing their VeriSign seal on their Request a Quote form. Aside from VeriSign, other security badges that help in conversions are AllClear and McAfee Secure.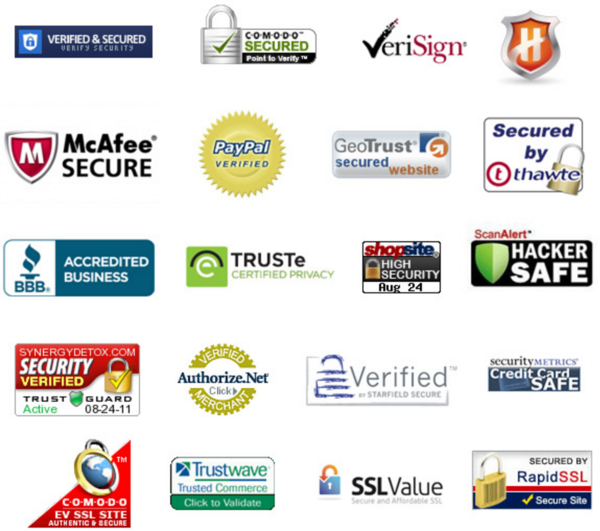 Security badges
Badges from VeriSign, GeoTrust, and Comodo mean that the company uses Secure Socket Layer (SSL) for security and encryption services. McAffee Secure, TrustWave, and Security Metrics are the trusted signs when it comes to security from hacking and other vulnerabilities. For certification for privacy and reputation, Truste, BBB, PayPal, and AMEX are the badges that shoppers look for. Note that providers present the badges remotely so once the certificates expire, the badge will disappear from the site.
20. Keep Your Inventory in Check
Poor inventory management can lead to lost profits and eventually, lost market share. Find the right balance in making sure your store has enough stock to meet the demands but not so much that it will eat up your capital.
Referral Candy suggests 3 ways on how you can improve inventory management:
If you operate on multiple platforms, make sure the stock information is consistent in all platforms.
Set sessions to map demand forecasts. Set safety stock levels and assign a reorder point to avoid stockouts.
Take a look into your inventory shipping costs. There are several ways that you could get your stocks – either via bulk shipping, consignment, or dropshiping. Consider each one and take into account what would work best for you.
21. Use Your Receipt Mail for Marketing
It doesn't end once you make a sale. Cultivate returning users with receipt mails.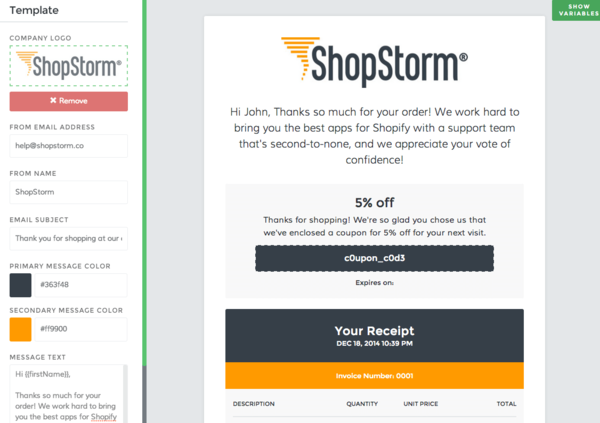 Receipt email
Receiptful shares with us the industry best practice when it comes to sending receipt mails.
First, convert your business' identity through its branding and design. This should play a big part in receipt mails just like it does with promotional mails.
Next, pitch an upsell with discount-based offers or a Recommended Product section. This could either be based on what the user last purchased
Lastly, work on your email structure. Receiptful's successful clients use the following format for maximum conversion:

Company logo
Personalized Thank You Message
Percent-off Upsell
Purchase receipt
The Similar Products upsell
Order Notes and Billing/Shipping Information
Feedback Section
22. Partner With Other Businesses for Cross-Promotion
If you have a small business selling coffee beans, partnering up with a local pastry shop and a neighbourhood bookstore for promotions might do you good.
Cross-promotion with other related yet non-rival businesses open up a whole new level of opportunities. Gain access to each other's audience and help each one out in marketing. Some of the most common cross-promotional activities include partnership giveaways, event sponsorships, and co-branded campaigns.
However, don't just partner with anyone. This article on Inc suggests that you should first evaluate the move with these questions: Are we a natural fit? Do we enhance each other's credibility? Do we bring different resources to the table? Is the sum of the parts greater than the whole?
23. Offer a Money Back Guarantee
If your product is that good, you should be willing to bet on it.
A study on Quick Sprout shows that a money back guarantee contributes a significant increase on sales. Money back guarantee and store returns policy builds a customer's confidence and trust on your brand.
KISSmetric hit the spot when they said that shoppers would like to avoid regrets. The thought of getting their money back in case things don't work out will make them feel safe with their decision.
Aside from money-back guarantees and free trials, there are plenty of other guarantee policies proven effective by other brands. Consider which one of these will work best for you:
100% Satisfaction Guarantee from Inkd
Forever Guarantee from Cutco
Lowest Price Guarantee from Amazon
$1 Million Service Guarantee from Lifelock
24. Utilize Urgency and Scarcity to Drive Sales Growth
When something you want is scarce, you will be fast enough to get one when you see one. The same principle works in online shopping.


Example of using urgency
To increase your sales, VWO recommends the following methods:
Show the stock meter. It will send the buyer into a panic buying mode once he sees there are only a few remaining stocks left.
How can they qualify for the next-day shipping? Set a cutoff time for next day shipping to make your customers click on that BUY button.
Offer limited period discounts for specific products.
Show the number of users currently viewing the product.
KISSmetrics also emphasizes the use of right words that will push the shopper into action. Use the words and phrases like hurry, one day only, don't miss out, Limited Time, Offer Expires, and Act Now trigger a fast reaction from users.
25. Use Retargeting
If you have done all the tips above and yet the shopper still abandoned his cart, don't fret. You still have a chance of reclaiming that sale through retargeting. Kimberley-Clark, a personal care giant, reported that 50-60% conversion rates coming from retargeting.
Retargeting utilizes cookies saved on a user's computer when they visit your site. The cookie contains an ad code. When a would-be shopper browses elsewhere on the web, he'll see ads related to your offers.
Neil Patel wrote on Quicksprout about how he used retargeting to close a business deal. Aside from site visits, cookies can also be sent via email using a platform such as Retargeter. You can do the same with Facebook Exchange and Facebook Ads as well. The most effective ad banners show the specific product that the shopper was looking at in your website, buyer reviews, and other suggested products.
Download the free ebook!
The Complete Guide To Building An E-Commerce Business by Digital Sherpa