Comparison of E-commerce Platforms - Part 1
When it comes to selling your products online, there's no need to reinvent the wheel and build your own in-house platform. Thanks to retailers who have seen what was lacking in the earlier versions of previous platforms, big industry names and startups have emerged over the years with flexible and highly scalable ecommerce platforms.
With all the available options for new ecommerce entrepreneurs, how will you know which one is the best for your business? Before venturing out to go online, note that the platform that you start out with is one determining factor of your business' success. Here's an article detailing how a retailer lost millions owing to their ecommerce platform change: "The retailer went live with a new ecommerce platform November 19 and almost immediately began noting poor customer experiences, lower-than-expected online conversion rates and high downtime levels… The retailer lost approximately $3 million in sales during the last few weeks of its third fiscal quarter, which ended December 1, 2012."
The lesson? Consider all the important aspects before choosing which ecommerce platform to use.
Let's take the 3 most popular platforms in the market today and assess them based on 5 categories. Trending ecommerce platforms now are Shopify, Magento, and WooCommerce.
Which one will come out as the best choice for you? Read on to know more.
Need more help with your e-commerce business? Check out Neil Patel's useful free ebook about building an e-commerce business.
1. Shopify


Shopify
Shopify was born out of the frustration of a retailer (and developer) who was not satisfied with the existing ecommerce platforms during his time. Canadian developer Tobias Lutke decided to ditch the platforms and created one for his own online store. In February 2015, Shopify issued a press release for a milestone achievement: 150,000 online stores were already using Shopify.
Pricing
To get a taste of what's it like on Shopify, the company gives out a free 14-day trial for stores in the US. Shopify offers three subscription packages ranging from the Basic package with all the essentials for a new business, an upgraded package for those who are expanding their business, and an advanced package for bigger businesses. Here are the subscription packages and their pricing for the US as of writing: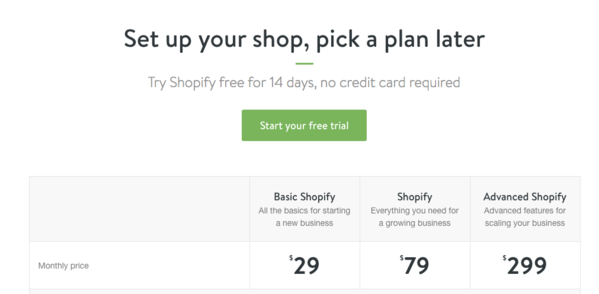 Shopify Pricing Plans
The cheapest, Basic Shopify, starts at $29/month and is ideal for new businesses as this already covers the essentials such as configuration of unlimited number of products, access to Shopify's 24/7 support, discount codes, website and blogs, as well as manual order creation and 2 staff accounts. The next packages, Shopify and Advanced Shopify, come at $79 and $299 per month respectively. These packages include advanced features such as abandoned cart handling and reports builder for analytics and metrics.
These monthly rates are just for the packages. In this review by Nate Shivar, he states that there are other factors that can add to platform expenses too such as credit card fees and add-on fees for plugins and themes that you may want to buy from Shopify's app store.
Flexibility
And how does Shopify fare when it comes to flexibility? Web Builders Guide details the benefits of using Shopify such as having the access to premium and free templates, even templates that are made specifically for the type of product that you are offering. So if you are looking for shop templates for clothes, mugs, or photos, browse in Shopify's Theme Store and find the most suitable template for your store. You can tweak colors, fonts, and modify settings to change the appearance of the store depending on your preference without the need to open and modify HTML/CSS codes.
In terms of hosting, Shopify provides hosting and domain for your site, including automatic backups.
One great thing about Shopify is that you can also use their POS system to sell products in person in case you're joining trade fairs and pop up markets. If you're selling products on your blog or website, Shopify has the Buy Button functionality that you can use on your site for only $9 per month. Shopify also offers other ways to sell such as Pinterest Buyable Pins, Twitter, Facebook Shop and Facebook Messenger solutions.
Extensions
In their review of Shopify, Ecommerce Platforms states that in all of the popular platforms now, Shopify is one of those who offer the largest number of apps. You'll find tons of apps, both free and paid, on Shopify's App Store.
These extensions cater to different categories of your online business – from marketing, social media, inventory up to accounting and reporting.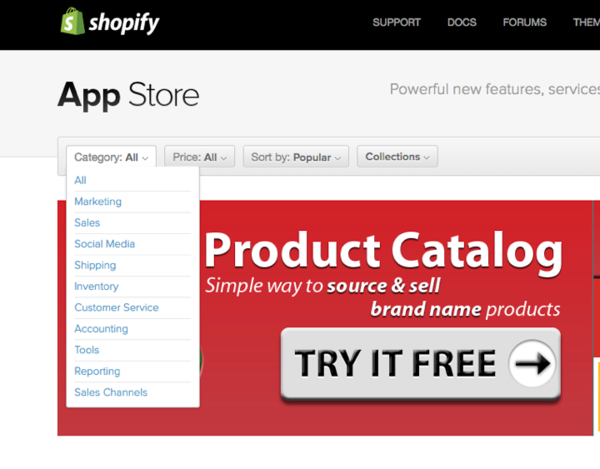 Shopify App Store
Need help in knowing which extensions you should use on your online store out of more than 500 plugins to choose from? Start with Shopify's own list of the top 20 most popular free apps.
Ease of Use
Shopify ranks high on top of all ecommerce platforms when it comes to ease of use with its drag-and-drop features, simple tools, a blog section that comes with every shop, and easy theme editing. Anyone can start the barebones of an online shop on Shopify; it does not take a lot of technical know-how to start a basic store.
Here's a sample page where you can get started on Shopify: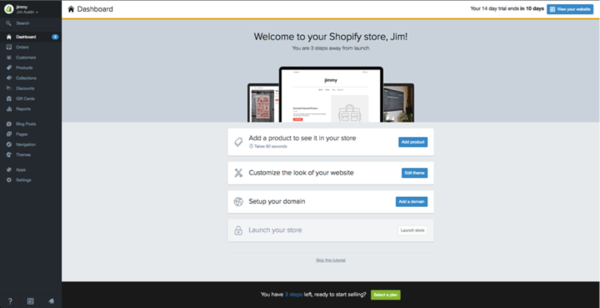 Shopify Admin Page
Merchant Maverick gave an in-depth review of Shopify's ease of use, not only for the shop administrator, but also for the customers. As a customer, the buying experience is easy and seamless and without complicated steps to checkout.
Customer Support
This is where Shopify comes out as a clear winner. Reviews state Shopify's 24/7 customer support as one of the defining reasons why one should choose Shopify. You may reach them through email, phone or live chat. If anything should happen to your site anytime of the night, you're sure to have someone to discuss with.
Aside from the available support, Shopify also helps merchants and their teams to learn the platform through numerous tutorials and guides on their website. However, Style Factory Productions notes that for coding and other highly technical inquiries, your questions may not be addressed fully by their support team. As an alternative, you can post these questions on the user forums.
Summary
Shopify is best for business owners who may not be developers but who want to work hands-on on their online shop. The platform is hosted and fully managed service along with the setup wizard and the simple dashboard allows just about anyone to start his own shop, without the need to know how to code.
Shopify's 24/7 support differentiates it from other open source platforms that only provide limited support, documentation, and forums.
Many businesses love Shopify for its clean and minimalist look but it is also of the same reason why some shops need to spend on add-ons to fully personalize the look and feel of their site.
2. Magento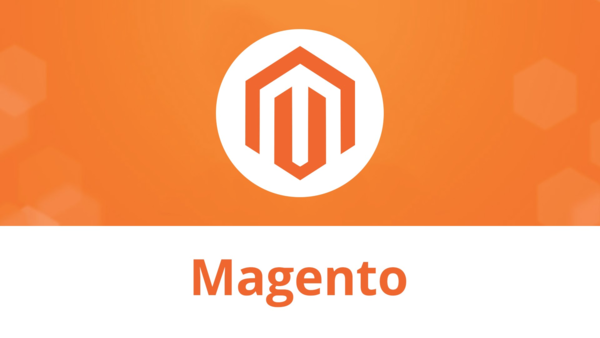 Magento
In a 2015 study, Magento led the pack as the most popular platform used by 25.3% of stores included in Alexa's top 1 Million Websites based on their analytics. WooCommerce (which we'll also discuss later on) comes at a close second at 23.7%.
Pricing
When it comes to pricing, Magento offers two versions for clients. There's the Magento CE package (Community Edition), free for download and use for small to medium businesses. You can simply download and use the platform for free, without thinking of monthly subscription costs.
Magento EE or the Enterprise Edition is ideal for large businesses with the price depending on the size of your business. To know the specific price for your store, you should get in touch with Magento specialists to request for a quote. Shero Designs gives us an idea that it can go up to $18,000 per year.
Here's a chart from Shero Designs detailing the functionalities included in Magento CE and EE versions: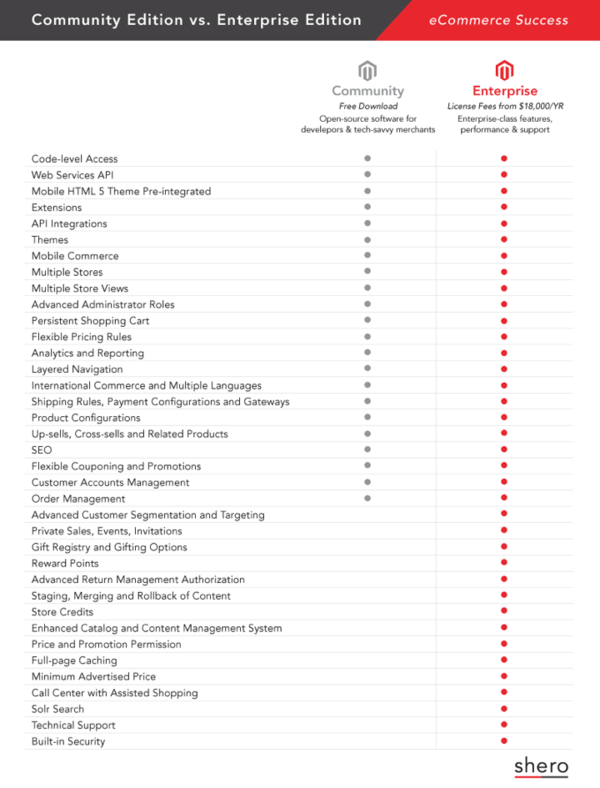 Magento CE and EE comparison
There are initially no costs involved with Magento if you get the CE version but as your business grows, you'll need to check out plugins and while you may install these on your own, Magento experts recommend to get the services of Magento developers for the installation. We'll discuss more of this in the Extensions section. You will also need to find your own secure host and domain; hosting, maintenance, and developer costs will add up to your expenses. Business News Daily quotes Magento programmers and consultant prices around $150 to $250 per hour.
Flexibility
Magento is an open source product and allows developers to modify the original code as they see fit. This makes Magento one of the most flexible systems available in the market.
In the case study posted at Boosting Ecommerce, the author tells us about his customization experience with Magento for a group buying website. They were able to offer a deal that was different from what they featured on their regular product page by tweaking the XML file and changing the configuration for that specific product only. Magento allows this highly precise level of customization and this helps online businesses to implement exactly what they need on their store.
Here's a sample of Magento's Admin Panel for Adding products: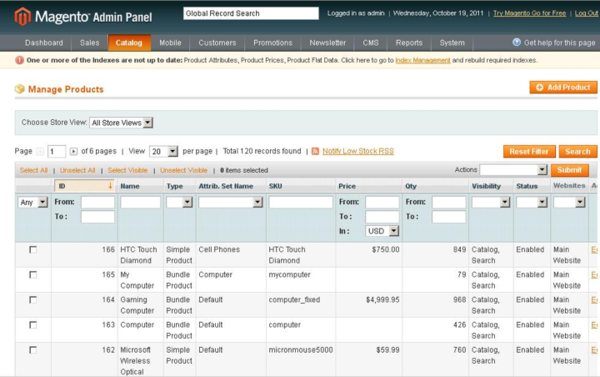 Magento's Admin Panel
Magento's allows you to use features such as advanced filters, cross-selling, up-selling, and adding discount codes to fully customize your product listings. One notable feature of Magento is the ability to view all stores on the same account. If you are running several stores, this is a real handy feature.
Magento does not offer hosting services so you will have to find your own hosting and domain setup.
Extensions
If there's any functionality not included within the platform, check out Magento Connect, the main hub for all Magento Extensions (whether free or paid), ranging from CRM, shipping, payment, or accounting functions.
Because of the open source architecture, more developers share and upload extensions. However, this forum on StackExchange points out some precautions that must be taken when dealing with extensions.
Since there are no code reviews on Magento Connect and the platform is highly customizable, extensions may not be compatible with every store configuration. It is not recommended for non-technical people to install extensions on their own without understanding the impact. In most cases, an uninstall does not easily resolve problems arising from code incompatibility. If you need to add an extension to your store, get a Magento developer to do the task.
Read the reviews first and get an idea of how the specific extension worked for other online stores. Here's an article on Add Shoppers with a list of useful Magento Extensions that you can start on.
Ease of Use
Magento, unlike Shopify that can be used by anyone to build a store, requires an experienced PHP developer or at least someone who is willing to learn to set up the platform. This is not to say that non-developers cannot configure the site on their own. In Paul Boag's review, he points out that while Magento has a steep learning curve, it can be done.
The configuration page might be overwhelming and confusing for a regular end user but if you want to manage your own store, be prepared to spend some time to learn the basics of Magento. To get started, you can find numerous online tutorials or go to Magento U and find applicable courses.
As mentioned in the Pricing section, one would also need to hire Magento developers as well as procure maintenance and troubleshooting services for your hosted site.
Customer Support
Using an open source system means that there are a wealth of information available on developer forums. However, because of the free and open architecture nature, CE version users do not have access to official support services from Magento. Technical support services are available for paid EE users.
If there's anything that you need to know for installing and managing your Magento platform, you can find user guides here.
Again, if you choose Magento, there should be a level of confidence in your capability (or your developers) to handle the platform without official support if needed. You should also consider getting a technical person for maintaining your self-hosted website for any issues that might arise concerning your site (eg. upgrades, downtimes, and security matters).
Summary
Magento is a platform ideal for larger, enterprise-level businesses with a budget to hire the services of a PHP developer or Magento consultant. The platform's powerful features and functionalities would be wasted on the wrong hands.
Magento is leading when it comes to customization and flexibility but it all boils down to what your store needs rather than what the platform is capable of. If you're running an established business with thousands of products in your inventory, then consider Magento because it is flexible, offers a lot of features, and is highly scalable. If you're just starting out in the business and still testing the waters, it might be more practical to choose hosted platforms such as Shopify and WooCommerce.
Need more help with your e-commerce business? Check out this useful free ebook about building an e-commerce business..
3. WooCommerce


WooCommerce WordPress is the most popular site platform used by both small and large businesses. In 2011, a theme developer, WooThemes, created what is now one of the most widely used ecommerce plugin on Wordpress, WooCommerce. In just 3 years' time, WooCommerce has become the second most popularly used platform in the online retail industry.
Pricing
WooCommerce is a plugin and an open source solution that you can download for free to use on your WordPress account. Similar to Magento CE, while you can download the platform for free, you might still need to invest on other extras (themes and other WordPress extensions) to make the experience more seamless for your customers.
To ensure that the plugin will work well with your WordPress theme, it's best to use with themes from WooThemes. Choose from a variety of existing free or paid themes available on WordPress. Prices of paid WooThemes range from $79 to $139. If you need help in choosing which template to use, here's a list of 15 beautiful themes that you can check out.
Also, consider the hosting expenses since you will need to get your own host and domain as well as the costs of hosting maintenance and support.
Flexibility
WooCommerce gives the option of being highly flexible without the need to know how to code. You can choose from up to 35 WooThemes that you can readily customize and modify according to your store's needs.
However, you'll need a basic knowledge of CSS/HTML if you want to customize your online store. WooCommerce themselves have provided 5 customization tips to give your store a more personalized feel. Start with customizing templates, adding hooks, downloading a plugin customizer to change various texts, translate strings to other languages, as well as changing color and style scripts.
As mentioned in the pricing consideration, you will have to find your own secure hosting and domain set up.
Extensions
Is there anything that you need that's not in the out of the box WooCommerce plugin? Before thinking of getting a developer to customize for you, check out the extensions page first.
Choose from over 350 WooCommerce extensions to improve your online store's product search function, accounting, coupon campaigns, and antifraud capabilities to name a few.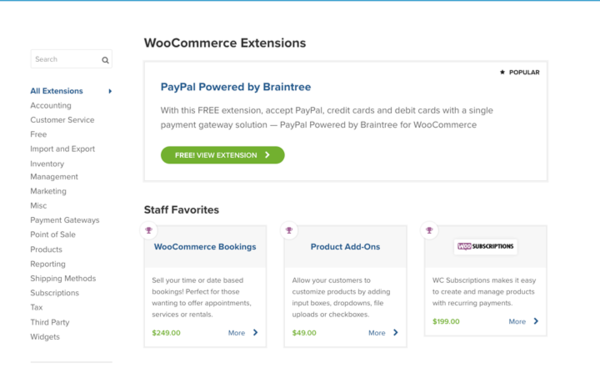 WooCommerce Extensions
If you don't know where to start in finding extensions, don't look too far. WooCommerce released their list of most recommended extensions for Payment Gateways, Smart Coupons, Subscriptions, and Product Add-on or you may also check out our list of the best mrketing extensions for WooCommerce.
Ease of Use
Did you know that as of June 2016, 59.5% of websites with known CMS use WordPress? This means that it is highly likely that store owners or their administrators have already worked with WordPress before. If you're one of them, then WooCommerce will be a familiar territory.
Here's how WooCommerce looks like on your WordPress Admin Panel: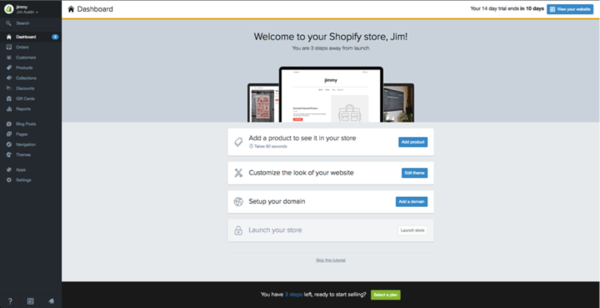 WordPress Admin Panel Sitepoint shares a very useful post on how to setup your own online shop in case you have no experience with WordPress yet.
Customer Support
Similar to Magento, there is only limited support from WooThemes due to the plugin's open system architecture. If you have any questions about the plugin, you can use the support function in the My Account tab to raise a ticket. Visit the forums or the documentation page as you might find the information that you need from there. When you are using a paid theme or extension, you can gain access to more resources.
Note that for issues related to WordPress, you must get in touch with WP support. The same applies for your secure web hosting and domain concerns; these issues should be raised to your domain host.
Summary
If you're running your website on WordPress, WooCommerce is the most ideal platform solution for you. It's familiarity and relative ease of use especially for those who are WordPress users lessens the amount of time for training.
WooThemes are also recommended for their clean and simple layout as well as for the quick one-page customer checkout that the theme provides.
However, if you might be thinking of moving out of WordPress in the future, you also need to consider migrating to a new ecommerce platform. Also, if you are looking to use other WordPress themes aside from WooThemes, you will need to validate its compatibility with WooCommerce first.
---
Here's a quick look at how the three platform compare in the categories (click to enlarge):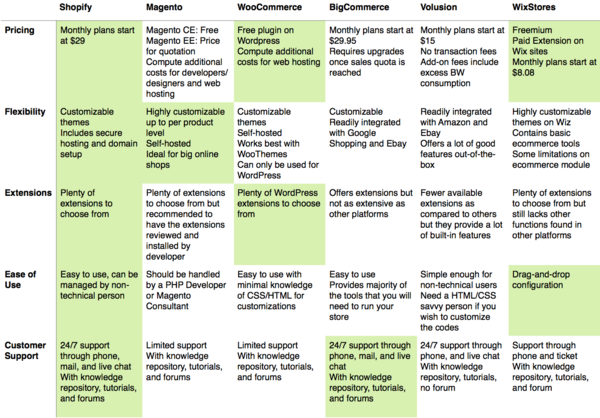 Platform Comparison
In summary, Shopify is the highly recommended of all three as it trumps other platforms when it comes to ease of use and customer support.
However, remember to read the summary and recommendations for each to help you decide on which platform best suits your online store. Also, did you know that there are more platforms that you should learn about? Watch out for those in part two of this article.
Download the free ebook!
The Complete Guide To Building An E-Commerce Business by Digital Sherpa
Download the free ebook!
The Complete Guide To Building An E-Commerce Business by Digital Sherpa