Comparison of E-commerce Platforms - Part 2
In a previous article, we've looked at three of the most popular ecommerce platforms in the market: Shopify, Magento, and WooCommerce.
Since there are a handful of platforms in the market, we've come out with a part 2! Let's continue dissecting another 3 key players used by a majority of online shops: BigCommerce, Volusion, and WixStores by Wiz.com.
Need more help with your e-commerce business? Check out Neil Patel's useful free ebook about building an e-commerce business.
4. BigCommerce

Founded in 2009, BigCommerce is one of the fairly young platforms in the market. Even so, there are roughly 58,000 online stores using the platform with a majority of the stores based in the US.
Pricing
If you want to test if the platform is the best match for you and your business, BigCommerce offers a free 15-day trial with no credit card required. Just click on the Start Your Free Trial button and start your online store in seconds. Once you decide on committing with BigCommerce, you may continue by purchasing any of their 4 available pricing plans.
The plans are segregated on a per volume basis with the basic plans for new businesses starting at $29 per month while the high volume plans start at $199.95 per month.
Here are the complete pricing plans from BigCommerce: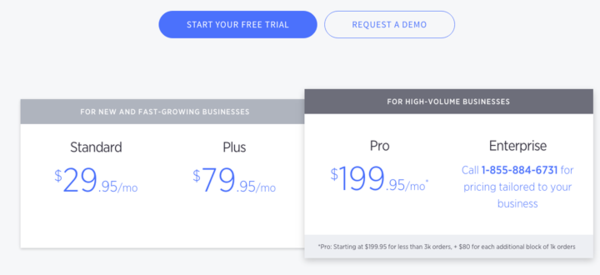 BigCommerce Pricing Plans
Of the pricing models that we've reviewed, BigCommerce and Shopify both have monthly package subscription rates. Prices for both platforms approximately start at $29 but while the prices are almost equal, BigCommerce adds more value as the Standard package already comes with gift cards, product ratings and reviews, and real-time quotes for shipping prices. These functionalities are not part of Shopify's Basic package.
Another thing that you also need to consider are the transaction fees. BigCommerce does not charge transaction fees while Shopify does, unless if you use Shopify Payments.
Also, note that for booming businesses, BigCommerce will require you to upgrade to a higher plan once you exceed a set number of orders or a specific amount of sales.
Flexibility
This is one ecommerce platform that anyone can use – even without a background as developer. The out-of-the-box solution works well on its own. Much like Shopify, the dashboard is clean, simple, easy to navigate, and use. Web hosting is also included in the different plans.
BigCommerce's significant edge comes in their built-in features such as a ready integration with Google Shopping, eBay, and AdWords. These make it easier when it comes to marketing and when integrating or exporting your store.
There are several themes that you can work with and these are all highly customizable using HTML/CSS. But whether you have the capability of tweakng the template or not, you can easily adjust parameters that affect the appearance of your site. Visit BigCommerce's Theme Store and choose a sleek and sophisticated theme (free or paid).
Extensions
BigCommerce's Apps & Integrations page showcase both free and paid extensions that cater to needs that may not be addressed by the platform's built-in features. Whether it's a plug-in for your store's accounting process or for improving your email marketing, you might just find one that will best suit your store. However, when it comes to number of extensions being offered, BigCommerce lags behind the expansive number of extensions available in WooCommerce + WordPress platforms or the extensive app coverage in Shopify.
Once on the page, hover on the plug-in names so you can read an overview of what the item is for.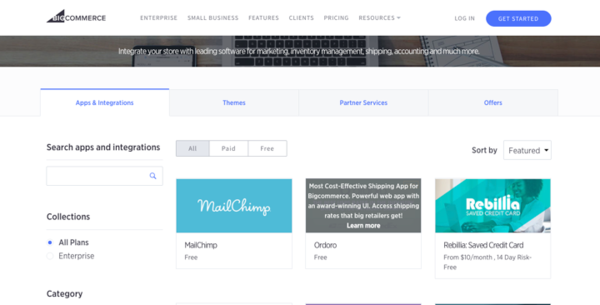 BigCommerce Apps
Alternatively, you may use their Apps & Integration page a good resource to start with especially for newbies who are thinking of ways on how to further develop their store. You might get new ideas just by reading the app overviews. In addition, you can always research online and find articles such as this one from Ecommerce Platforms where they listed out some of the best marketing apps for BigCommerce.
Ease of Use
How easy is it to create a basic site from scratch on BigCommerce? Fairly easy as most users say. You'll initially need to spend a couple of hours to learn how the dashboard and site organization works and from there on, you can create and tweak your site as you wish.
Below is a sample setup page. The platform lays out all the initial activities that you will need to accomplish before you can run your store.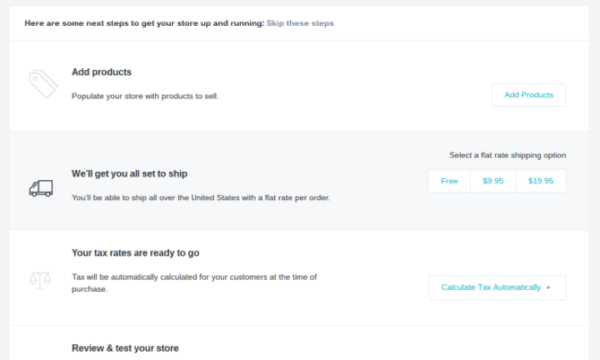 BigCommerce Setup Page
BigCommerce provides the tools that you would need to handle a variety of store functions such as managing your inventory, organizing your product page, identifying bestsellers within a specified period of time, handling returns, and rewarding your most frequent customers.
Installing an app or plug-in from BigCommerce's Apps & Integrations store is an easy, one-click task too! Once you've installed the app, you'll find it on your store's control panel and you can now go and start the configuration.
Customer Support
If you have questions on how to manage, configure your site, or virtually anything about how your platform runs, your first stop should be BigCommerce's huge repository of support documents. You'll find video tutorials, guides, and in-depth (and systematically organized) documentation uploaded on their site.
Next, if you can't find the answers to your queries on the available documentation, post your questions on BigCommerce's forum page. Experts are usually on this page and chances are, someone will be able to answer your question.
The last resort would be to contact their 24/7 support via live chat, phone, or email. To make sure that you've looked through all the resources before reaching out to support, this page will only come up after the site presents you with all the possible solutions (we know because we've tried).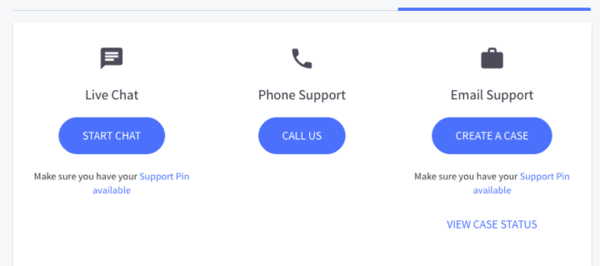 BigCommerce Customer Support
Summary
BigCommerce rivals Shopify when it comes to a standby 24/7 support and ease of use. Based on what we've seen, BigCommerce offers the most number of tools as part of your store's built-in dashboard. You can really do a lot of things with your out-of-the-box BigCommerce plan. Website Builder Expert also resonates the same sentiments when it comes to the platform's available tools.
This platform also fares well in supporting other sales channels such as Google Shopping and eBay. This goes too for their support of social media platforms and promotion features (coupons and discounts) that are all pre-installed on the platform.
The biggest con of BigCommerce is its pricing. Once your sales hit a specific amount (eg. up to $50K a year for Standard plans), you'll be requested to upgrade your plan to the next tier. Similar to what Ecommerce Platforms has to say, it does seem that BigCommerce is making more money out of their more successful customers. Shopify, on the other hand, has fixed prices for all.
5. Volusion

The company takes pride in its 15+ years experience in the industry. With more than 40,000 stores using their platform and with their proven track record, Volusion is one of the trusted names in the ecommerce business.
Pricing
Try Volusion risk-free for 14 days and if you're satisfied with how the platform works, upgrade to any of the 4 plans. Volusion has a straightforward pricing plan starting from $15 a month for the Mini Plan up to $135 for the Premium Plan.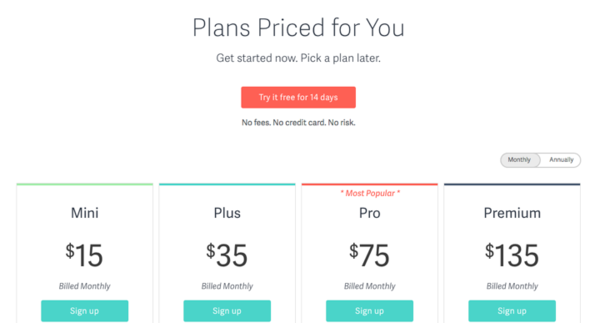 Volusion Pricing Plans
One look at the pricing plans and you'll see that the entry plan is cheaper than that of BigCommerce and Shopify, however, let's study the package inclusions closely.
First, each package restricts product configuration up to a specific maximum number (except for Premium) and each one also sets allocations for the site bandwidth. Other platforms offer configuration of unlimited number of products and do not implement bandwidth restrictions. Also, all Volusion packages do not include SSL certificates unlike other platforms. You'll have to include the price of SSL certificates in your platform costing. There are other features that are built-in in Volusion which are not found on other platforms so it will be up to the owner to evaluate which are the features that he values most.
Even if Volusion does not charge transaction fees, add-on fees can still possibly eat up your budget. In this review by Nate Shivar, he states some of the culprits generating additional expenses and this includes paying for exceeding the bandwidth and deploying solutions to lessen bandwidth consumption.
Flexibility
The most flexible Volusion package comes with the Pro plan at $75 per month. This plan, aside from the usual features, comes packed with an Amazon and Ebay ready integration, Phone Orders processing, a Deal of the Day feature, and support for Customer Loyalty Plan configuration.
Deal of Day allows storeowners to highlight a product on their site and offer discounts for a limited time only. The built-in Customer Rewards capability attracts merchants too as they can easily set up a points program for frequent customers.
Volusion offers a range of free and premium themes starting from $50 to $895. The selection is a bit limited when compared to WooCommerce or Shopify but if you want to veer away from existing themes, Volusion also creates customized design packages.
Want to know which Volusion features are a hit with their clients? Here's a list of client favorites.
Extensions
Volusion base plans (especially the Pro and Premium plans) come pre-installed with several awesome capabilities that you can go straight ahead and use on your site. This could be the reason why there are only a few apps (13 free, 60 paid) on their App Store.
Here are some of the apps on Volusion's App Store: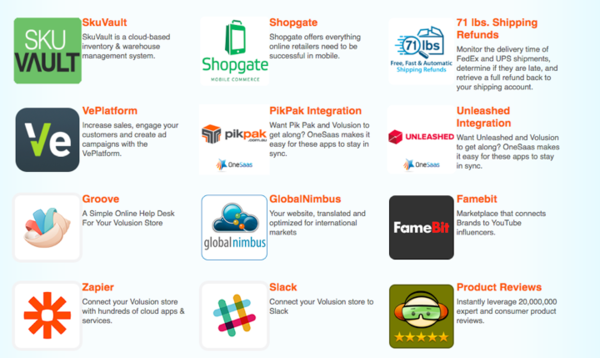 Volusion's App Store
Improve your site's tax and accounting handling, product reviews mechanism, and product returns processing by downloading and installing a new plugin.
Leap Go has a few suggestions on the most useful Volusion plugins that could give your store a boost.
Ease of Use
How you rate Volusion on this criterion will depend on the type of owner you are. Do you want to modify templates or do you want to stick to the one that you've installed right from the start?
Here's the simple way of building your store on Volusion. When in the dashboard, owners can move with ease and navigate well with the simple and clean layout.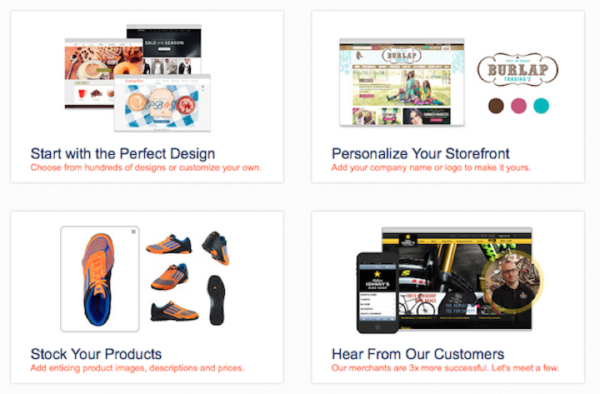 And here's how it would look like if you want to modify your code: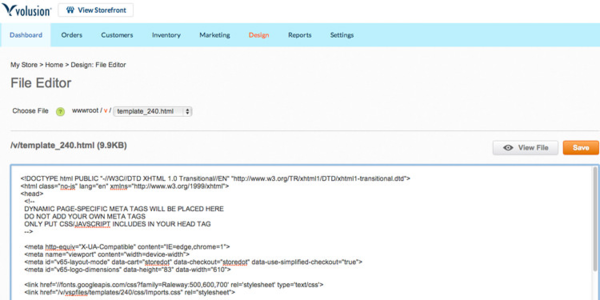 It's easy to set up a store at Volution with the helpful hints and guidelines but if you decide to tweak your template, it can be a bit complex for someone with no HTML/CSS know-how. As the review on Superb Website Builder says, there's not too much you can do with the templates and it can be limiting if you have no coding knowledge.
Customer Support
24/7 online and phone support (no phone support for Mini plans) are available for all of Volusion's pricing plans.
For further reading about the platform, visit their Resource Page containing useful reading materials, videos, and guidelines. Volusion's library does not only contain relevant information about the platform but it also offers helpful training resources such as SEO for ecommerce, understanding bounce rate, and how to find blog posts ideas.
You may also find answers to questions about the Volusion on their Knowledge Base. However, unlike other platforms, there is no official forum for Volusion but do check on GitHub, Reddit, or Stack Overflow for discussions.
Summary
Business owners looking for a pre-installed, stable, and reliable platform should consider signing up for Volusion. The number of products limitation on the plans is usually not a problem unless your inventory becomes more than 10000 products.
Volusion's built-in capabilities provide added value to a store: from Deal of the Day discounts to customer points system support. To most businesses, these features are enough to improve sales and increase customer engagement. Volusion may not be the right choice for beginners who want to tinker and customize templates.
The only significant downside of Volusion is the bandwidth over-consumption fee. Once the traffic from your site to Volusion's server exceeds more than what is allocated, you'll be charged for every excess bandwidth. If you do decide to use the platform, read on about Volusion's own set of tips on how to lessen bandwidth use.
Need more help with your e-commerce business? Check out this useful free ebook about building an e-commerce business..
6. WixStores from Wix.com

Wix.com was founded in 2010 in Tel Aviv, Israel. The platform is best known as one of the finest website builders today operating on a freemium model wherein users start for free and are prompted for upgrades if they want to avail of new features or extra storage. Wix offers an ecommerce module as one of their plugins.
Pricing
Start with your website for free and then upgrade to a Premium plan to avail of the ecommerce extension.
Here's how WixStores pricing looks like: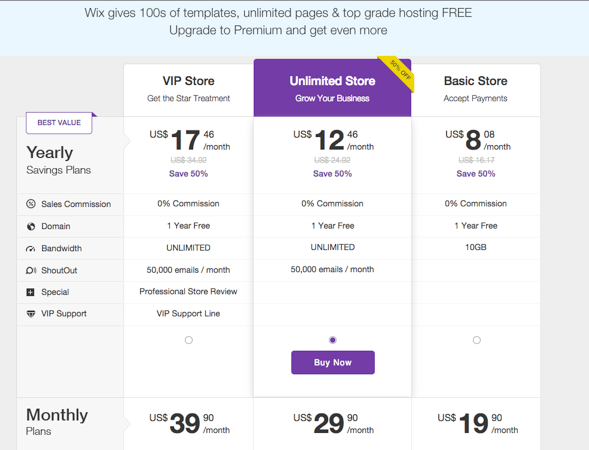 WixStores Pricing Plans
Wix encourages paying an annual fee so you could get more savings. The Basic store starts at $8.08 (currently at 50% discount on the site) when you purchase for the entire year. Paying on a monthly basis for the same Basic plan will set you back more at $19.90 per month.
Premium plans that include WixStore or the ecommerce module are capable of inventory and order management, checkout process, shipping rules definition, and payment options configuration. In terms of expenses in putting up and maintaining the platform, Wix is cheaper compared to other paid platforms such Shopify, BigCommerce, and Volusion.
Flexibility
As of writing, there are 12 absolutely beautiful themes on Wix that are best used for online stores. Aside from those templates, you can also choose from 100+ available templates.
However, choose and decide on your template carefully. Once you start working on a template for your premium account, you cannot easily switch templates as user Chris Lee found out. Once you have selected a template, you can modify almost everything on it and make it a completely different one just by dragging and dropping components onto the page. Wix also provides an HTML5 editor which means that your store can look as stunning as these samples.
Wix offers free hosting. When it comes to functionality, there are a few limitations that you should be aware of. As of writing, a merchant can only define up to 3 product options and up to 30 product variants. Code in WP on their review also pointed out that WixStores only allow definition of 2 product attributes: size and color. For a big online store, these can be a limiting factor.
Extensions
The ecommerce module is a plugin itself on Wix. You can further create a hit out of your online business by using more apps offered on Wix's App Store.
I've clicked on the Online Store apps for this particular search: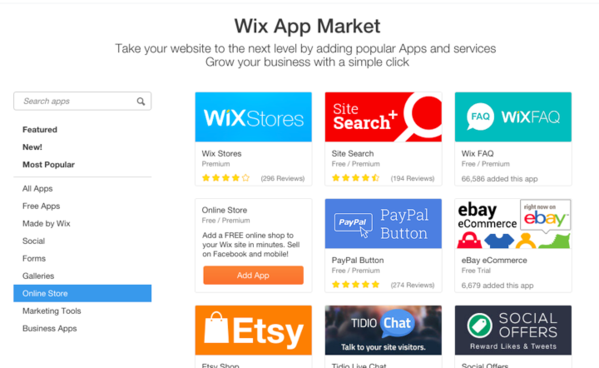 Wix App Market
You'll find apps for pricing tables, currency converters, and online payment handling apps. Aside from that, you may also download and install plugins for social media integration, contact forms, mailing lists, and email marketing tools.
WixStore templates come with ready-made ecommerce functions but you'll have to download apps for all other processes.
Ease of Use
WixStores' drag-and-drop online store builder is a winner when it comes to creating your own shop from scratch. Of all of the six platforms, Shopify and Wix share the top spot in terms of ease of use.
Customizing blocks and parts of a Wix website appeals to owners who would like to make sure that their store does not look like the next one using the same template. If you wish to move a part of your website to any part of the screen, simply drag and move that block to where you want to place it. Wix allows anyone, even without the design and coding knowledge, to create a clean and sophisticated website.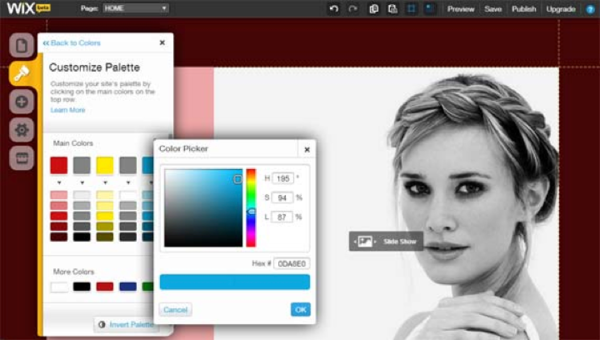 Here's a glimpse of the ecommerce plugin at work: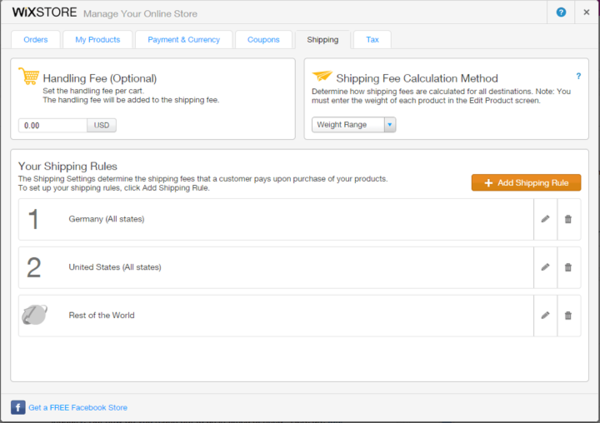 Customer Support
Take a look at the Wix Help Center and read through hundreds of helpful and comprehensive materials that you can use to learn more Wix. If you've got questions about how to build your store, you may find video tutorials on Wix' YouTube channel.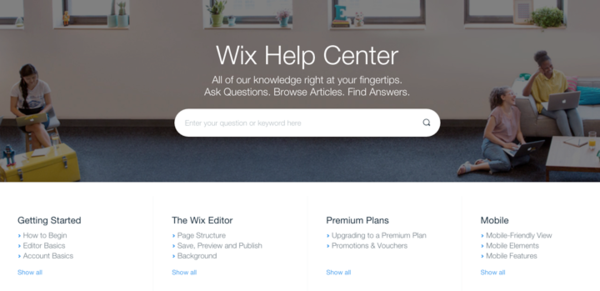 Wix Help Center
Wix also provides a forum page where you can post questions or issues and a representative from Wix support team will answer your query. Answering concerns on public forums also helps other users who might be experiencing the same issues. It's good to make use of all the information available.
Users can also contact Wix Support by phone or by raising a ticket. VIP account users get their own access to a VIP Support team.
Summary
WixStores makes creating a store a fun and enjoyable activity. It's a great platform for new business owners who want to have the freedom of personalizing and customizing layers of their online shop without the complexities of coding.
Those who want a barebones store to immediately start with may be confused with all of the options for customizations, but that can be solved by finding a template that you think will work best for you. Also, we've mentioned you can no longer change templates once you've already picked one for your premium account. Growing online stores with big inventories should also consider some of the current limitations in the ecommerce plugin as discussed in the Flexibility section.
---
Here's a quick cheat sheet of what we think works and what we think is the best of the 6 platforms when it comes to Pricing, Flexibility, Extensions, Ease of Use, and Customer Support. Click to enlarge.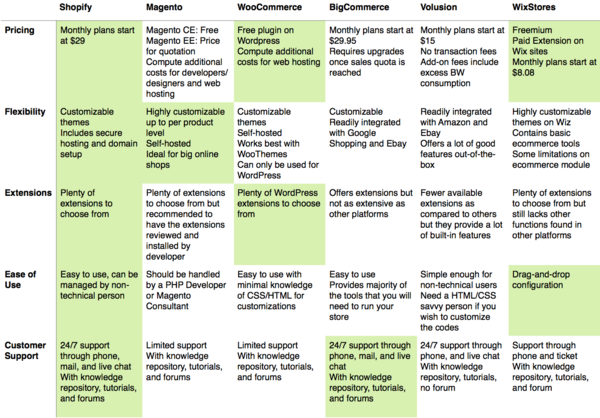 Platform Comparison
Download the free ebook!
The Complete Guide To Building An E-Commerce Business by Digital Sherpa
Download the free ebook!
The Complete Guide To Building An E-Commerce Business by Digital Sherpa