Free traffic with Surfaces Across Google
Google recently announced that they will insert free listings in the Google Shopping Tab to help merchants connect with their customers regardless of whether they advertise on Google. The changes are already in effect for the US, and Google plans on expanding globally by the end of 2020. In May 2020 Google seny out an e-mail where they state that SAG is enabled in all countries where Shopping is available.
By opting in you will allow people to see your products on various Google surfaces, including Google Images, the Google Shopping tab, Google Lens, and Google Search. These impressions and clicks are completely free.
However, it is important to mention that this does not affect the rest of ads from the Google Search or Display Networks. The change is only for Product Listing Ads (PLAs). And only in the Shopping Tab.
For example, if we are searching for 'kids puzzles', the Shopping Ads that we see in the 'All' results page, are only paid Shopping results.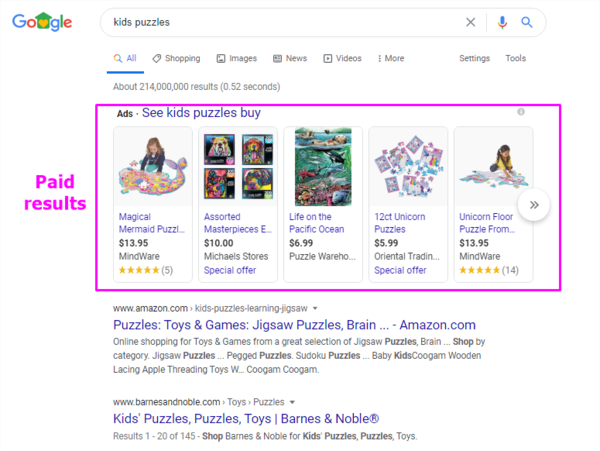 But if we go to the Shopping Tab we see that there are both paid and organic results.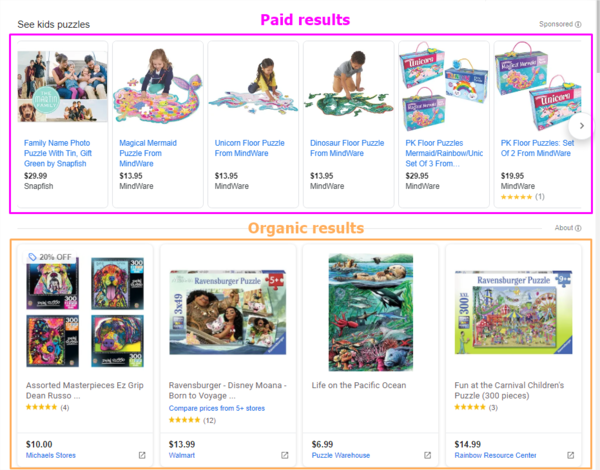 Enabling Surfaces Across Google
So how do you enable this?
If you already have a product feed set up in your Google Merchant account to advertise on the Google Shopping platform, you might already be eligible to show your products in these unpaid experiences, and don't have to do anything else to participate.
If you're not sure if your products are displaying on Surfaces Across Google, you can check it in your Merchant account. On the left side menu go to the 'Performance' tab and then 'Dashboard' to see the new performance report for unpaid clicks.
If you don't have the 'Performance' Tab on the left side, you might have not opted in for the Surfaces Across Google Program. In order to do this, you'll have to click on the 'Growth' tab and go to 'Manage Programs'. There you will have to find the 'Surfaces Across Google' program, and click on 'Get started'. From there, you will just have to set up everything from Google's requirements list and you'll be good to go.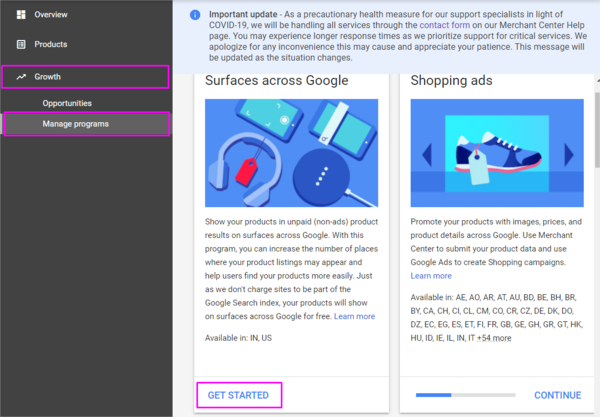 Of course, you'll also need to add your products to the Merchant Center using a product feed. If you have a Shopify store, you can install our Google Shopping Feed app to generate the product feed and follow our manual to set it up.