Where do I find the search words behind my product listing ads?
What are product listing ads (PLA's)?
In short: it is an easy, striking way to advertise products on Google Search for the people who have an Google Merchant Center Account with Product Feed. Pictures, titles, prices and more can be shown on a striking place next to the normal advertisement texts. With this, better CTR and conversion percentages will be reached than with the normal text ads! You can read more about the advantages of PLA's and how you set this up here.
So, where do I find those search words?
Advertising with PLA's can be a big money maker, certainly when the Product Feed is well structured and actual. It is, on the other hand, not easy to get a detailed insight in the results. Because Product Listing Ads are not based on search words, but on Product Feed, there is no information available under the "Keyword" tab page of the concerning campaign in the Adwords interface.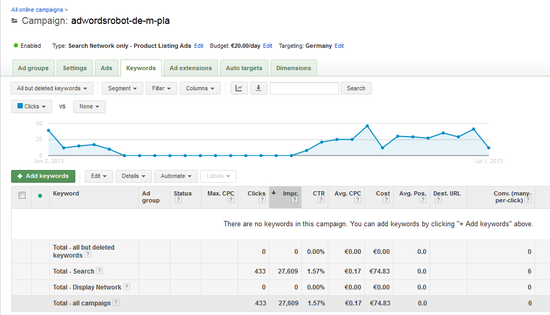 Also in Analytics, under the tab page "Paid Search", will not be shown any keyword information. All data of the PLA campaign is put under the keyword with a star (*).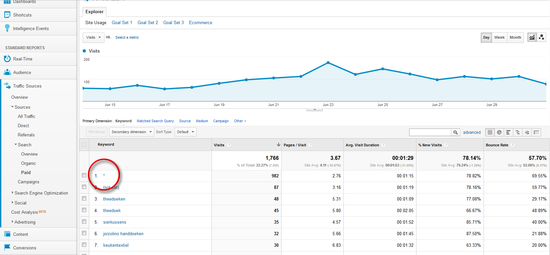 So this is not really useful. In this article we will overtake where customers searched for before clicking on a PLA in a simple way.
Two methods
1) In Adwords
In the "Keyword" tabpage inside Adwords you can view the so called "Matched Search Querries" of the PLA campaign.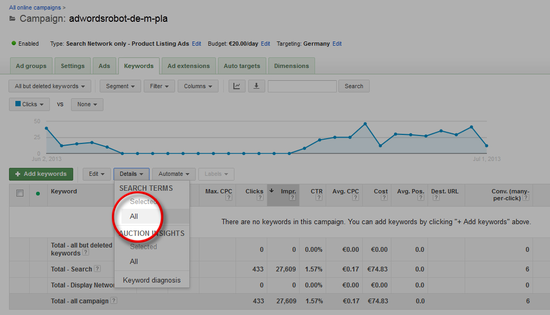 It is a fast method, but rough as well. All search words of the campaign will be thrown in one place. By filtering you can improve your overview.
2) In Analytics
The second method is actually the same, getting overview by digging deeper in Google Analytics. It is important that all ad groups within the Product Listing Ad Campaign are identifiable as an PLA ad group before you continue. By for example, starting the name of each ad group with the word "PLA_". This turns out the best if you have segmented your Product Feed with the help of Product Targets. If you have set all your products in one ad group, you lose a lot of details in the available results.
Go to the tab page "Traffic Sources". Click on "Advertising" > "Adwords" > "Matched Search Querries".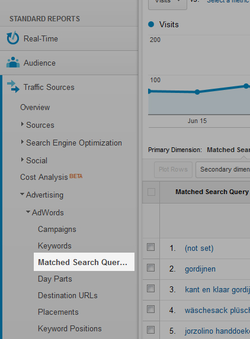 Continue by setting the "Secondary Dimension" on Campaign. You now have the same overview as in Adwords.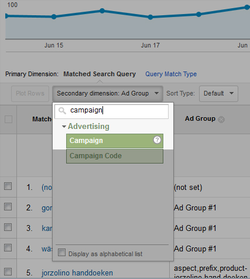 By filtering on "Adgroup Name" or another distinctive aspect you can get details forward.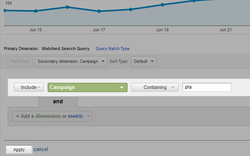 Conclusion
If well constructed, Product Listing Ads have the potential to get many customers without too much work. There is a real "Bang for your Buck" factor in it! However, right now the setting options are limited and the results are difficult to judge. By organizing your Product Feed well, you can get the most out of Google.