Webinar: How Weather Influences Sales
Wednesday 30 November 2016 20:00 CET – sign up
---
Winter is fast approaching and AccuWeather's expert long range forecasters have released their latest predictions. Last year, warmth plagued most of the country during the holiday season and many retailers fell short of their sales predictions.
Was your business as prepared as possible for last year's weather? Do you know what the upcoming forecast is calling for?
This year, things will be different. Holiday shoppers in certain locations of the country can expect a return to cold weather and snow.
Are you positioned to take advantage of weather opportunities and minimize weather-related risks to this year's forecast? The AccuWeather Data Driven Decisions team of analysts use the power of meteorology, big data, and analytics to predict disruptions and ensure you are prepared for the holiday season.
Here is what you can expect to learn from the webinar and much more:
Find out what areas are going to have abnormal weather and how you can adjust.

Understand best practices on how other Fortune 500 organizations leverage insight about the impact of the weather on their location. Different geographical locations react to the same weather event very differently.

Learn how to provide a clear, Common Operating Picture (COP) for your organization since weather impacts all areas of a company (marketing, operations, supply chain, safety, and security).

Gain insight on how to be ahead of the weather by incorporating the long range forecast because basing your business decisions on normal seasonality or what happened last year can lead to the wrong decision.
About the host: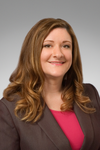 Rosemary Radich is Head of Business Intelligence and Data Analytics at AccuWeather, and leads statistical analytics and predictive modeling, providing a new level of business intelligence that saves lives, increases productivity, drives revenue, and more for commercial clients worldwide.
AccuWeather reaches more than 1.5 billion people every day through internet sites, radio, television, and newspapers, and serves over 240 of Fortune 500 companies. Overseeing AccuWeather's analytics team, Rosemary identifies marketplace advantages for clients, applying the most robust big data sources, proprietary IP, and advanced analyses to inform predictive models. With over ten years of experience, Rosemary has a proven track record of generating business results through actionable insights.
Extra information
When is the webinar broadcasted?

The webinar will be broadcasted live the following times:

- San Francisco, USA – 11:00 PST
- New York, USA – 14:00 EDT
- London, United Kingdom – 19:00 BST
- Amsterdam, The Netherlands – 20:00 CEST
- Athens, Greece – 21:00 EEST

How many seat are there?

We have 100 seats for the live event. If the live room is full, keep trying in case someone leaves.

How long is the webinar?

The duration will be 20 to 30 minutes.

What if I can't watch the webinar live?

No problem :) If you subscribed for the webinar, you will receive a follow-up email with the recording and the slides.

If I don't subscribe, can I still have the materials?

Unfortunately not. After the webinar, we will e-mail the materials (video recordings and slides) only to the subscribers.

How much does it cost to attend

You can attend this webinar for free.

What is the level of the webinar?

This webinar can be watched by beginners.