Weather Advertising for AdWords Use weather targeting in your PPC campaigns Triple the performance of your Display Marketing
Get in touch
We have done this before for:






---
How Weather Based Advertising works?
Weather Based Advertising is similar to normal PPC advertising, with the addition of Local Weather Targeting to AdWords based on rules. For example:

Local Weather Targeting rules give your AdWords campaigns two new features:
Show specific ads (Display Banners or Search Ads) to consumers when the weather in their location (city) satisfies a desired weather condition. This improves relevance.
Example: A supermarket could promote ice products when it is warm and sunny, but advertise for soup when it is rainy.
Increase/Decrease CPC Bids in the locations when the weather satisfies a desired condition. This is useful when some products are better sold during specific weather.
Example: An insurance company might pay more per click after a storm, because after some damage, people are more likely to become a client.
These two powerful features run using the local weather where the consumer is browsing at that moment.
All types of weather conditions like temperature, amount of rain amount of sun, etc can be used to build up the rules for your products or services.
---
Why use Weather Targeting in AdWords?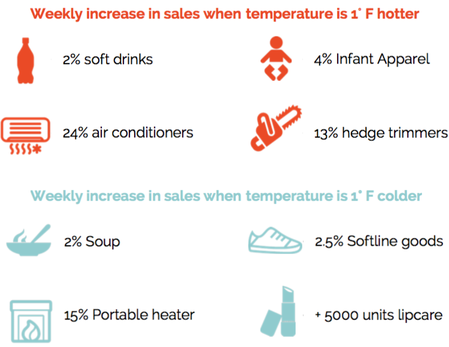 The weather predictions have been used for years to predict crimes, growth of crops and, of course sales. And this makes a lot of sense in retail, as it can be seen above.
Now, we can also use weather conditions in AdWords targeting.
The benefit is clear;
By showing more relevant advertisements within Google (Search Ads) or even on third-party website (Display Banners or YouTube Ads) during desired weather conditions yields higher performance. Click Through Rates go up and Conversion Rate increases.
---
How to start with Weather-Based Advertising?
We follow these steps for each weather marketing campaign we start.
Analyse weather/sales data. Weather Marketing is not for every business. If you are not sure that your products or services are influenced by the weather, an analysis is a good starting point. In this weather/sales analysis we will correlate traffic or sales data and the local weather in top 3 cities.
Define relevant weather conditions. Depending on the products or services you need to define the weather conditions which make most sense. Another option is to use the automatically detected correlations from the weather analysis.
Create beautiful banners. For each weather condition, you must create a banner which supports the 'mood' of the consumer. You can also work with one of our designers to create banners suited for weather campagins.
We create the campagin structure. After the conditions and banners are created, we will build a campaign structure. With the right location and weather targeting.
Campaigns go live. Our Robot will take over and will show the banners during the defined weather in the city where the consumer is.
Weather Based Advertising costs $1099 per month
Setup fees apply
Pay as you go
In some industries, weather based advertising can improve ad performance by 300%.

If you think your products or services are influenced by the weather, get in touch!

Get in touch