Complete guide to Google AdWords Certification: Tips & Tricks, Tutorials, and Study Resources
"Why should I get certified?"
This question is one of the things that come to mind when discussing Google AdWords certification. Will a certification make any difference? How will it help my digital marketing career?
If you are a beginner in AdWords and these are some of the things boggling your mind, then you've come to the right place. This article aims to provide beginners with useful information on everything that they need to know about Google AdWords Certification.
Google AdWords certification overview
In general, certifications are given by a body to deserving individuals who have proven their knowledge and expertise in a system or solution. Certifying individuals is a way of setting a bar and creating a standard of identifying who can be classified as experts in their field.
Google first started with Google Advertising Professionals. It was changed to Google AdWords Certification in 2010 after they made changes to the program. In 2013, the program was changed to Google AdWords Partners.
Any individual or agency can sign up for the Google AdWords Partners program. To be an AdWords certified professional, a person should pass the Fundamentals exam and at least one advanced/specialized exam.
Here are the exams:
Fundamental Exam – This covers Google AdWords basics including management and optimization of campaigns

The following exams focus on testing your knowledge on creating, managing, measuring, and optimizing specific advertising campaigns:

Search Advertising

Display Advertising

Shopping Advertising

Mobile Advertising

Video Advertising
The passing score for each exam is 80% and each one comes with a corresponding time limit. All exams are available for free.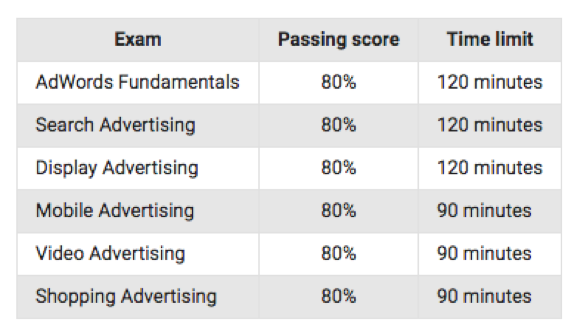 If in case you don't meet the passing score on your first try, you may retake the exam after 7 days. Once you pass the exams, you will get a printable certificate from your page on your Partners account. Here's a sample certificate:
Certificates are valid up to 12 months after passing the exam. To stay certified, you must have two exams valid at any time (1 fundamental and 1 advanced). You can view your certificates and their corresponding validity on the My Profile page of your Google Partners account.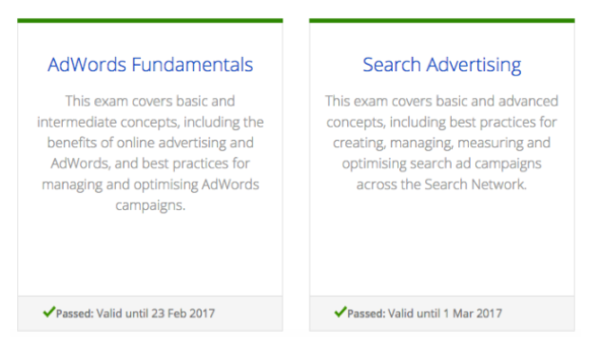 Individuals get certified while agencies can apply for a badge. Agencies can earn a Google Partner or a Premier Google Partner badge.

Here are the criteria for agencies that want to qualify as a Google Partner:
Must have 1 (for Google Partner) or 2 (for Premier) certified AdWords professionals within the agency

Must have a 90-day Spend of USD $10,000 for all managed accounts (higher Spend requirements for Premier)

Meet performance requirements in terms of customer base growth and AdWords revenue
Advantages of Being a Certified AdWords Professional
Going back to this article's first line: "Why should I get certified?"
Here are reasons why you should take the exam:
First, it adds to your credibility as a digital marketer. You can include the link to your Google Partners profile as proof of your certification. You can add this to your business card, CV, and to your Google+ and LinkedIn profiles.
If you are employed in an agency, your clients will see the benefits of working with a Google Partner agency. These include having first-hand access to Beta features, a quick line to Google Support, and having the assurance that the agency they hired is using all the Google AdWords best practices in the industry.

Partners are featured in the Google Partners listings site. Clients can validate your Google Partner/Premier Partner status on the site. Here's Adwords Robot's profile:


The company profile on the page shows the specializations of an agency. Each one has its own distinct icon. Agencies can leverage on their badge and specializations when bidding and winning a new client. This will instantly give them an edge over their competitors since this means that the people working in the agency are highly capable of running AdWords.


If you're looking for a job or planning to switch to a digital marketing career, having a certification under your belt is a big plus. Companies put a high value on certifications. It shows that you are dedicated to your career. Your chosen company will also be able to link your certification to their company, therefore increasing the number of individual certifications. If the agency you are applying to do not have a badge yet, you can use your certification as leverage during the job offer.

Since certificates expire 12 months after taking an exam, continuous learning is key to keep your skills and knowledge up-to-date. This knowledge will not only help you in taking the exams but regular learning will also help you advance professionally.
Preparations and Tips for the AdWords exams
"How can I prepare for Google AdWords certification in a short amount of time?" That is a question from Quora, asked by someone who is about to cram on his certification review.
Hopefully, you'll have more time than the poster but the tips that members shared on the thread are all very useful.
Preparation Tip #1: Read the Google AdWords guides
If you do not have an extensive experience in using Google Adwords prior to taking the exam, read the study guides. Even if you have a working knowledge, it is recommended to read and brush up on your understanding of the different topics.
Google's study guides are helpful for everyone, including beginners. The fundamental guide starts with a "What is Adwords?" topic and goes on to discuss how to use AdWords. Regardless if you will take the certification or not, these study guides are a great way to start learning about AdWords.
Preparation Tip #2: Write your own notes
Another suggestion is to print the guides and write down your own notes. This will allow you to better comprehend each topic. Create a cheat sheet too that you can quickly scan for ideas during the test. Write down formulas and conversions. If you can, come up with easy memory aids to help you remember.
You can browse and check for answers while the test is ongoing but with the time limit, it's impossible to do it for every question. It will be very useful to have a quick guide to refer to in case you get stuck in one of the harder questions.
Preparation Tip #3: Practice
Nothing beats practice. While reading the study guides and writing your own notes, open your AdWords account and try to simulate the lessons. It will be better if you can run your own campaign for your website or if you don't have one, find a website or a business that you want to help out.
One commenter suggests looking for free vouchers to fund your campaigns while others suggest that you shell out a little amount for your ads. Think of it as an investment for your certification.
Preparation Tip #4: Join forums
Talk to experienced marketers and strengthen what you know. Join the Google AdWords community, post questions on Reddit or Quora, or find a digital marketer Facebook group in your area. You will find plenty of Google AdWords tips too in different communities so do not be shy to join and ask questions.
Preparation Tip #5: Take Google AdWords practice tests
Aside from reading materials on Google, it also helps to read AdWords tutorials. Third party experts on AdWords offer online courses plus tips on reviewing for actual exams.
One of the most recommended practice exams is offered at iPassExam. Test your knowledge with available AdWords quiz and see how you will fare with the mock exams. These exercises will give you a gauge of how well you will perform in the exam proper. Passing mock tests will help you gain confidence in taking the actual certification. If you think you missed out on some fundamental concepts, go back to your reading materials and brush up on your lessons.
Sample Certification Questions
Exams are in a multiple-choice format with four choices. Be wary of trick questions and take your time in answering questions especially the ones that you find confusing.
Search the web for samples of certification questions (free or paid) and get a feel of how the questions are like. Here's a link to a short, free mock exam but you'll have to sign up to get the results. If you do not want to sign up, what you can do instead is to get the questions, answer it, and manually check your answers.
Here are screenshots from the mock exam at WizIQ: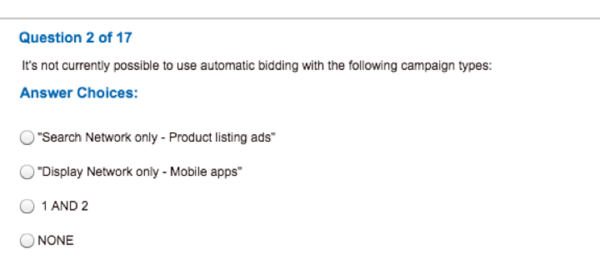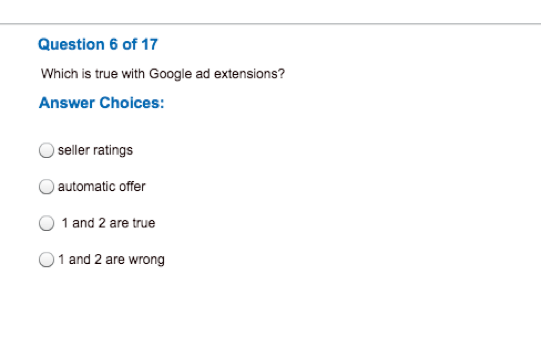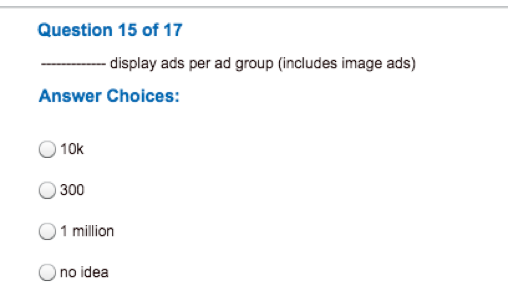 Here's another good site to test your AdWords Fundamentals knowledge. The good thing about this site is that you can immediately find out if you're right or wrong, including an explanation of the answers as well as your current score.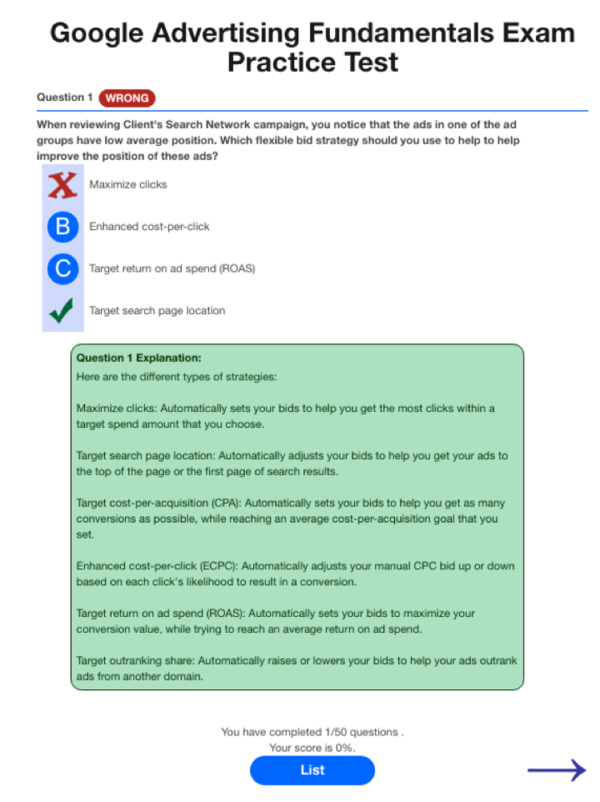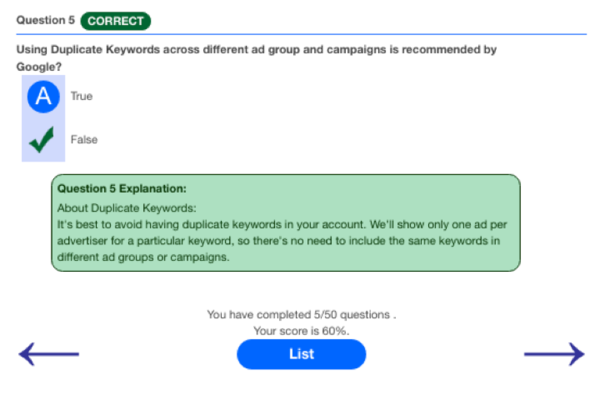 Sign up at Teach Me Good, iPassExam, or Coodie for more AdWords online quiz.
We recommend that you download PDF versions of sample Adwords exams so you can review even when you're offline. Here are useful links:
Links to AdWords Training Materials and Courses
Aside from Google's exam guides, here are other recommended training materials:
Online Courses:
The Complete Guide To Google AdWords
This course on Udemy discusses AdWords in an easy-to-understand manner ideal for beginners. The 2.5-hr training program starts from the basic "What is AdWords?" with the end goal of enabling students to create their own AdWords campaign.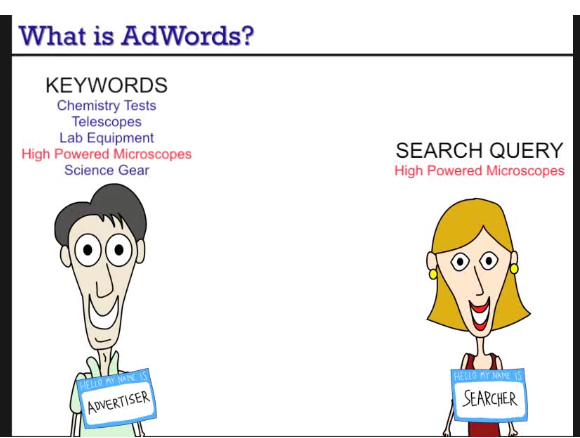 Screenshot from Udemy course teaser
Google AdWords Training and Tutorials
Sign up at LinkedIn's Lynda to access Google Adwords Training and Tutorials ranging from the essentials to tips and tricks for advanced marketers.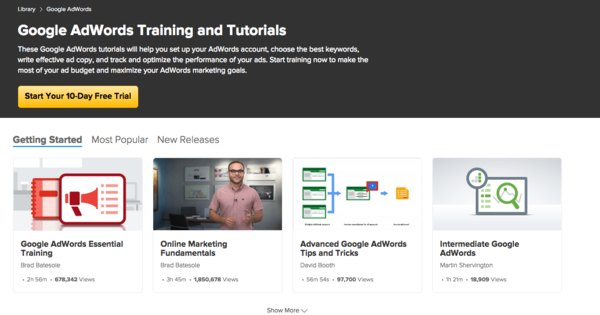 Enrol at Ledet.com for comprehensive Google AdWords training via a live, instructor-led online training. Here is the training plan: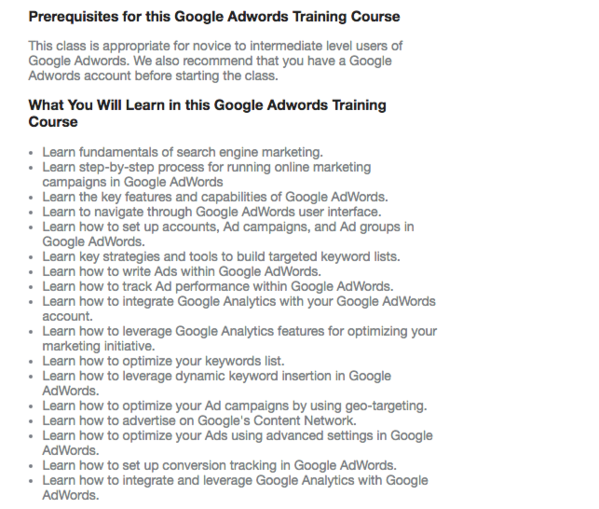 Google AdWords Training (Live Instructor-Led Webinar or Onsite/Offsite Group Training)
If you want to have an onsite training, inquire at NetCom Learning. They offer private trainings aside from live instructor-led online trainings.
Up and Running With Google AdWords
Isaac Rudansky's course will not only help you jumpstart your knowledge of Google AdWords, it will also help you prepare for the exams. The course curriculum tackles basic topics covered in the Google AdWords Fundamentals Exam.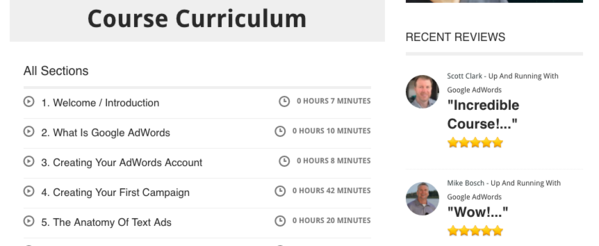 eBooks and Guides:
This up-to-date guide contains tactics & strategies, tips & tricks and tools. Here you can learn and update your knowledge about new AdWords features.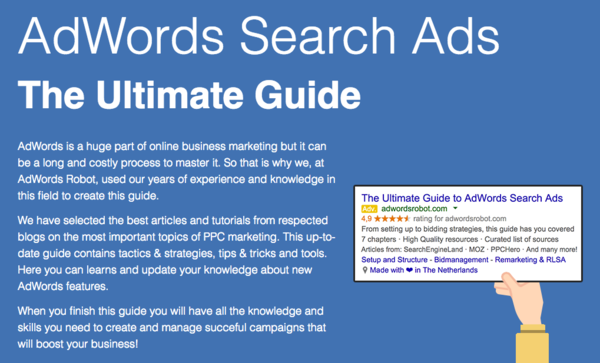 Get this handy beginner's guide from Hubspot. All you need to do is sign up to download the free ebook.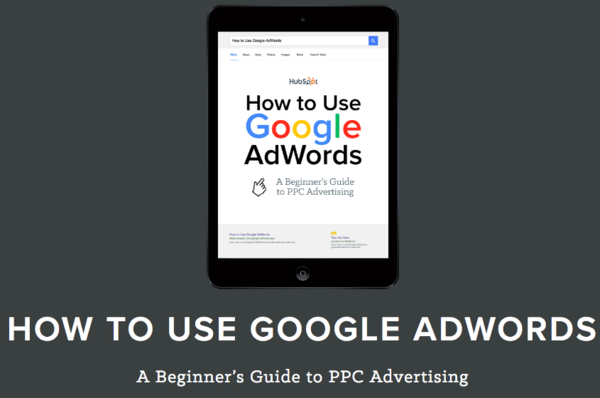 WordStream offers several resources detailing tips on how to get higher CPC rates, exploring best AdWords features, and improving your site's landing page. It may not be ideal for beginners, but it's best for those taking advanced exams.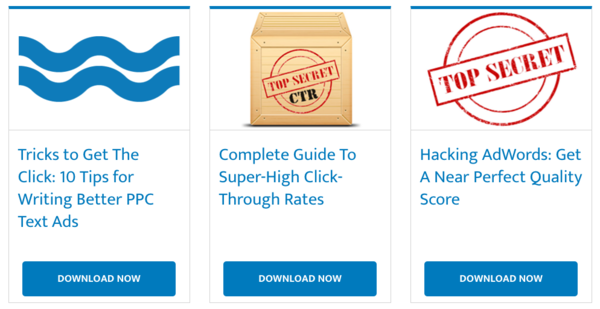 Here's a perfect way to refresh your knowledge. This study guide lists out all you need to know in a bulleted format.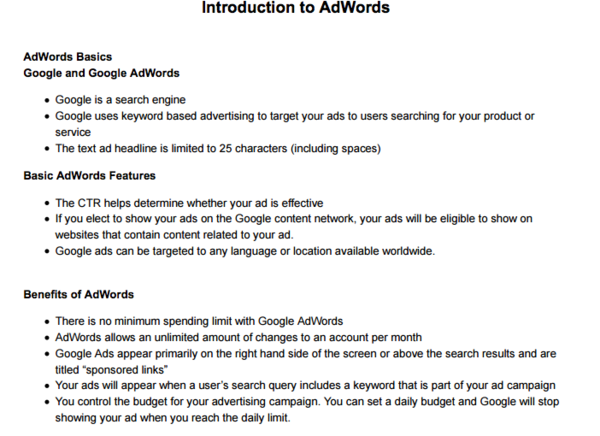 Videos:
Start with watching videos straight from AdWords. Their channel contains videos discussing the basics as well as different ways to advertise.

PPC Guides videos are geared towards those who are taking the specialized exams. Choose the tutorials applicable for your certification or watch them all to gain in-depth knowledge of each form of AdWords advertising.

Sample questions in video format make it easier to learn while you're in transit. This is just one of the many videos uploaded on YouTube. Check out the comments section too for feedbacks on the posted answers.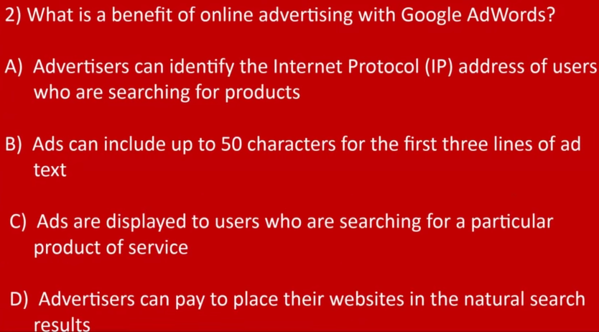 Taking the AdWord certification exam
Are you now ready to take the exam? Here are the steps to start with your actual certification:
Log in or sign up for a Google Partners account.

Select Certifications. You will see all the exams available for you such as Adwords and Analytics. Click on the See exams button.


Check the details for the exams. Information such as time limit, the number of questions, passing rate, and number of lessons/topics covered are presented.


Once you're ready to take the exam, click on the Take Exam button.
Tips During Your Exam Day
Nervous on your certification day? Certification passers have some tips to share about the exam.
Relax. Take a deep breath before clicking on that Start Exam Now button. You cannot pause the exam once you start so get your notes and formulas ready before you click that button.

Take your time. If you encounter tough questions, see if you can find answers on your quick guide. Remember that you can not change your answers or go back to a question once you click on Confirm Answer.

Always choose the best answer. Some questions are tricky. You might find two or three items could be true but remember that to always go for the best answer.

Take both exams within the same day or within the closest possible interval that you can. Some questions in the fundamental exam are part of the advanced exams. Take the next one while fundamentals exam questions are still fresh in your mind.

If all else fails, remember that you can retake the exam after 7 days. Prepare and brush up on what you think you have missed the last time. Don't stress yourself by studying everything again. Instead, read and focus on the topics that you had a tough time answering.